Kitchen Trends That We that Will Be Everywhere
When it comes to refreshing a home, there's no better place to start than with the kitchen. Browse the top kitchen trends that are making a huge splash.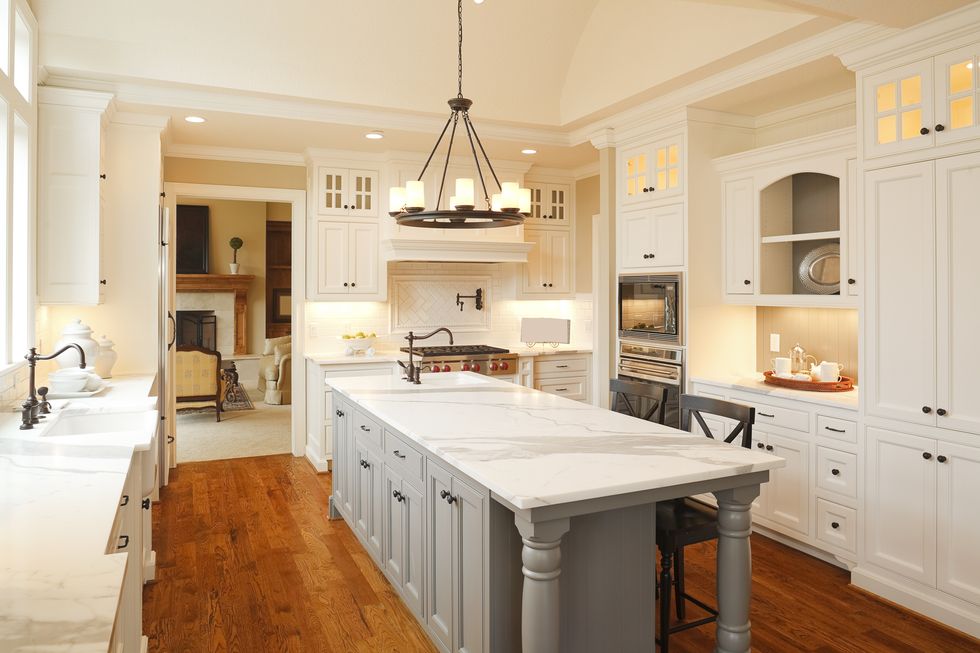 MIX-AND-MATCH FINISHES
The days of monochromatic kitchens are far behind us, according to Sue Wadden, the director of color marketing at Sherwin-Williams. She explains that, this year, it's all about mixing and matching color, no need to keep it all the same: "Using multiple colors in kitchens has become a popular trend this year. For example, painting base walls or cabinets in a dark charcoal tone and upper cabinets and walls in creamy off-white tones is something we're seeing more and more of."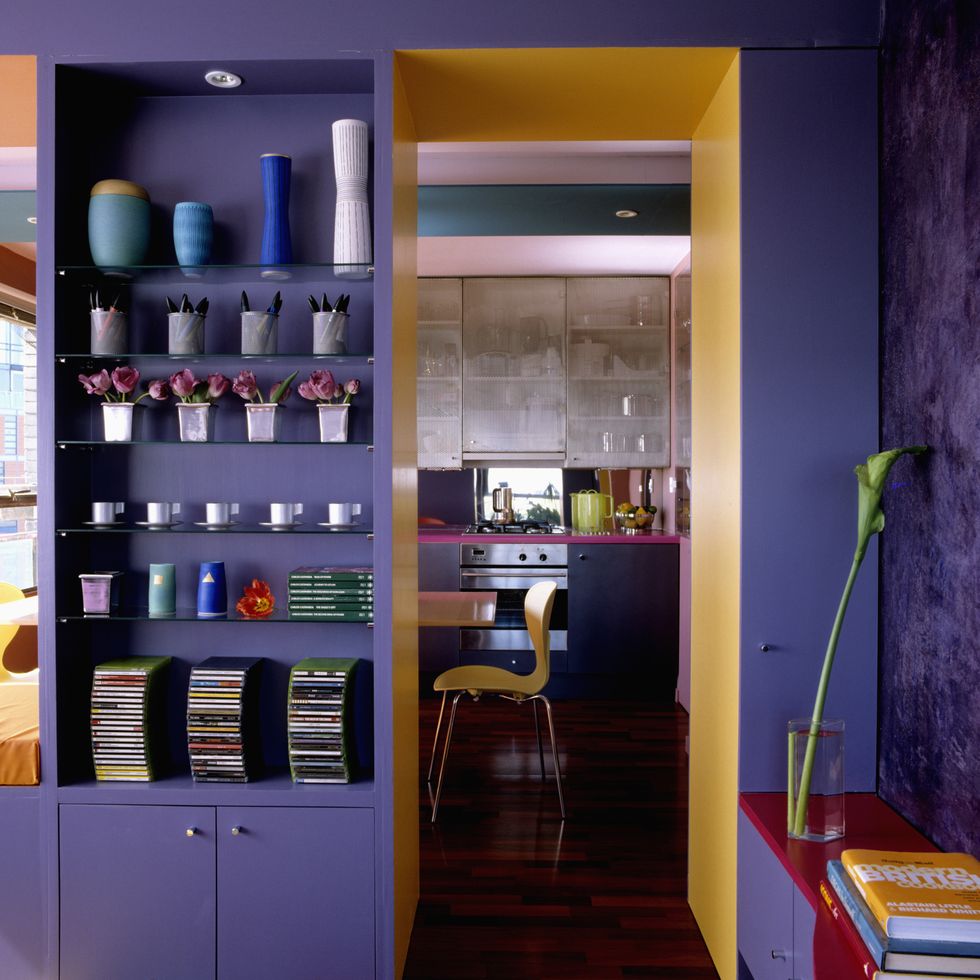 ALL-VIOLET EVERYTHING
Pantone announced Ultra Violet as the color of the year, and it's already shaping up to be a major trend in every aspect of home design. Shannon Zapala, co-founder of glassware brand GOVERRE explains, "One of the popular kitchen trends is using bold, unexpected colors [...] such as Ultra Violet, Pantone's color of the year! This dramatic color exudes a feeling of luxury and elegance."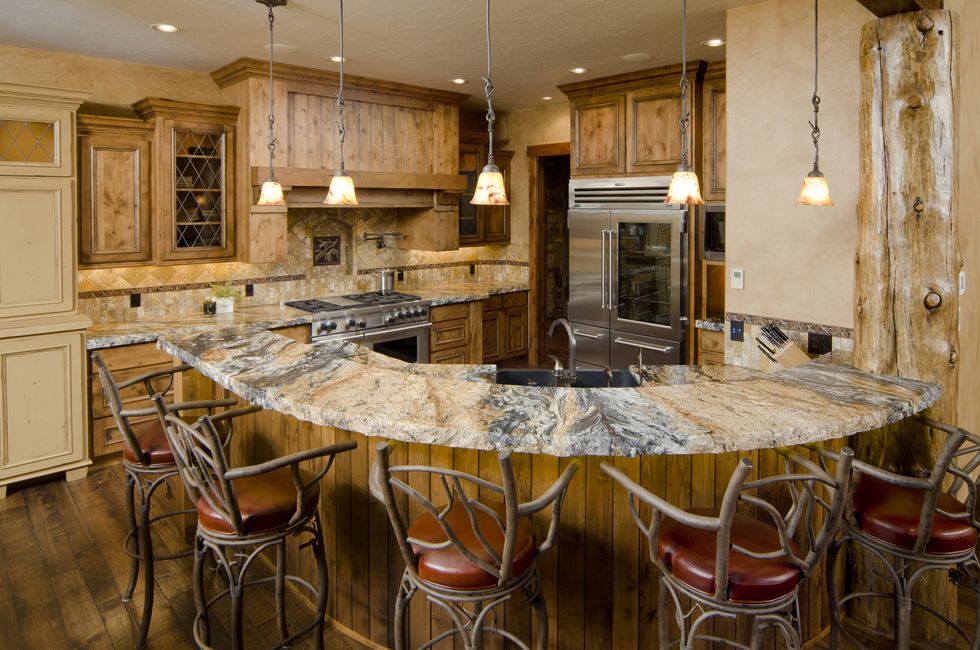 HIGH-CONTRAST MARBLE
"Step aside Carrara," says interior designer Donna Mondi. She explains that the newest 'it' look for the kitchen is dramatic marble that makes a statement, noting, "Marble countertops with high contrast bold veining are making quite a statement. It's perfect for book-matching to create intense drama, or doing as a waterfall down the sides of the island. Either way, this new trend is one to watch as I think it'll be going strong for years to come.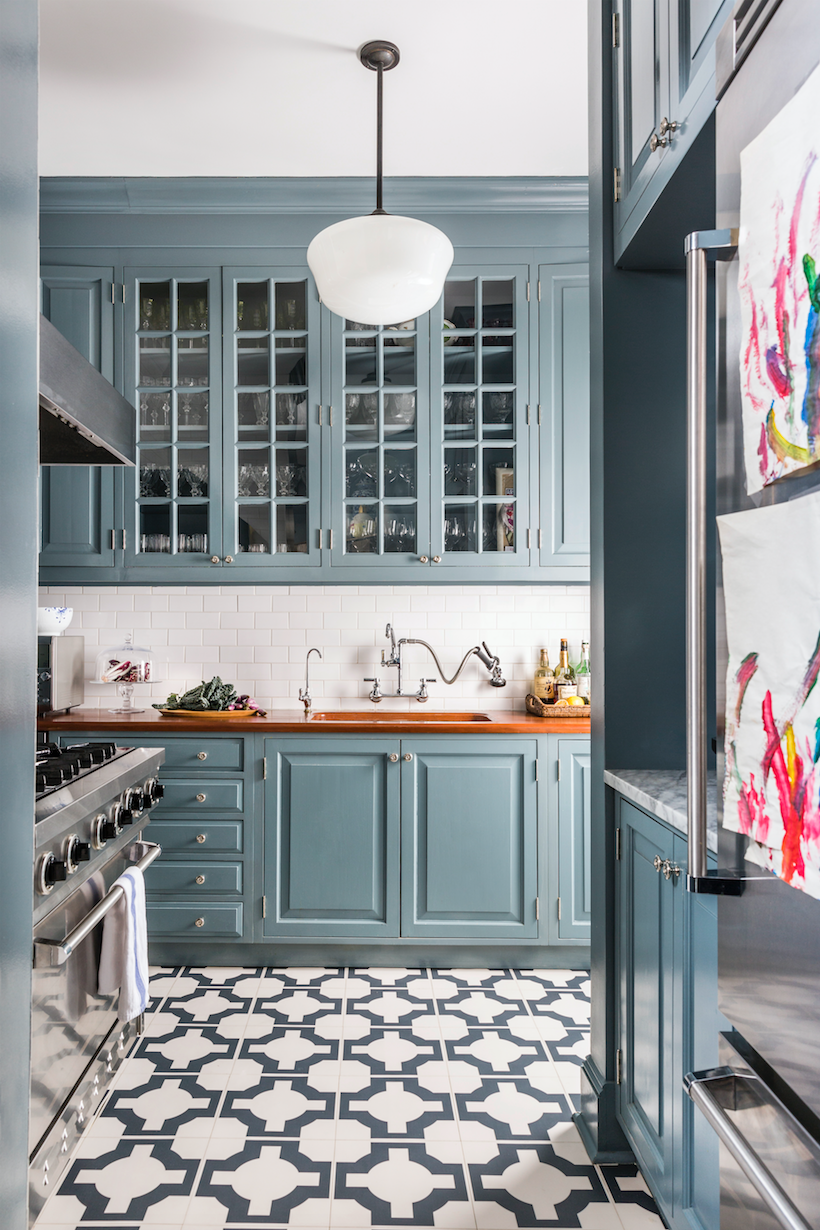 WOOD COUNTERS
Wood kitchen counters are another popular trend this year. "Add warmth to a kitchen with wood counters," says interior designer CeCe Barfield. "Wood creates old-world charm and a less utilitarian aesthetic. Wood counters feel like furniture, which visually enhances an area that is likely much more than just a place to cook."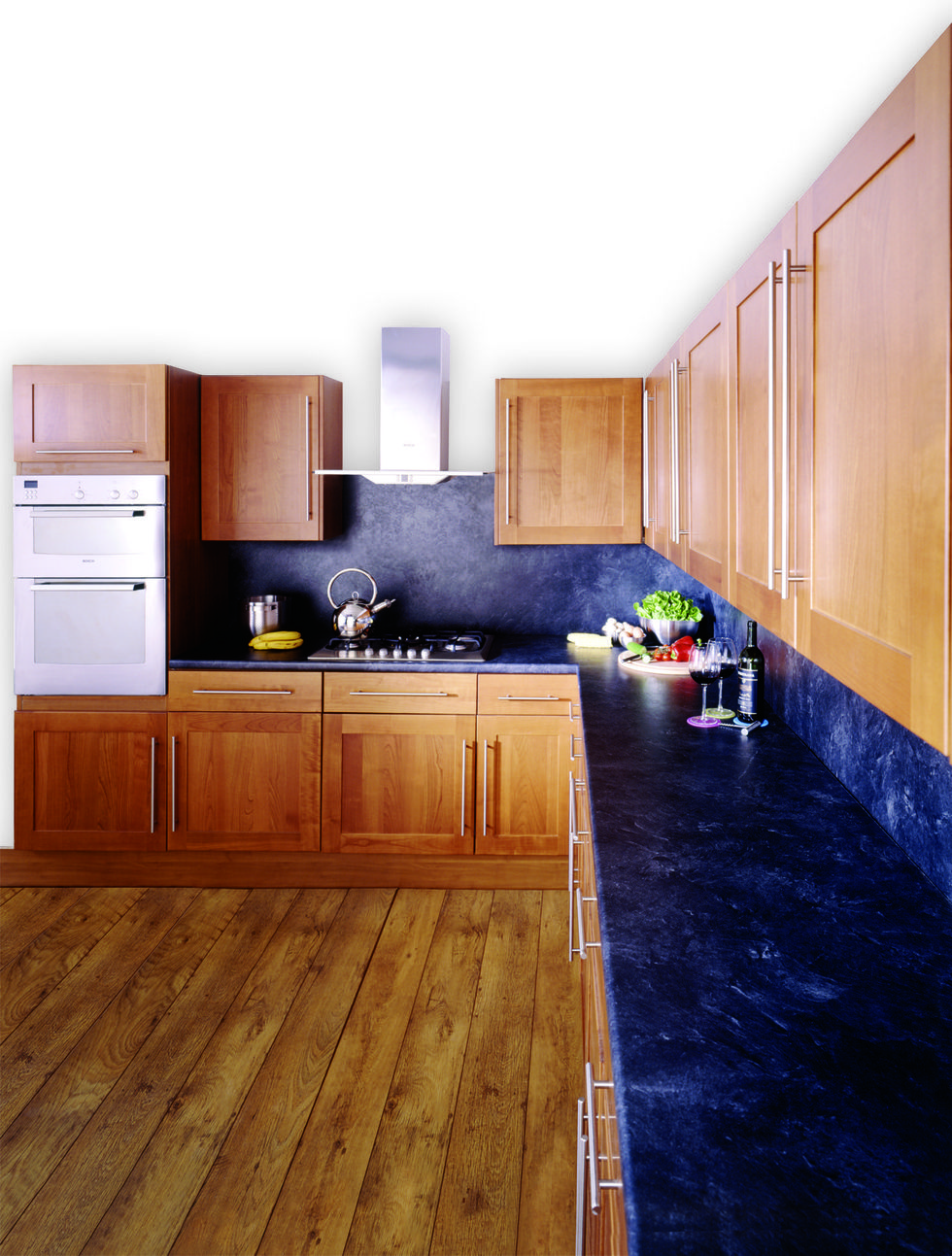 DARK COUNTERTOPS
Dark, deep countertops are the order of the day, according to Renee Hytry Derrington, global design lead at Formica Group. "Homeowners were intrigued with slate tiles that came in black, dark green and multicolored rust tones. We wanted to design a slate option for countertops that had the same natural cleft detail, but combined with the growing interest in dramatic black stones. Basalt Slate is the result, and one of our most popular designs this year."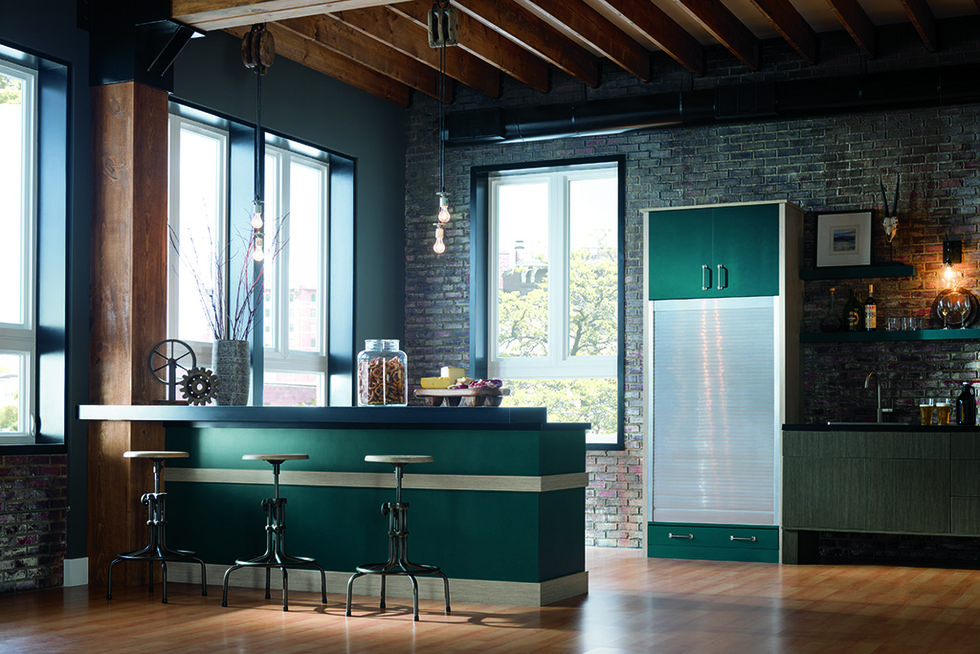 BLUE AND GREEN CABINETRY
Kitchens are taking on moody ocean-inspired shades. "Blues and greens emerged as 'go-to' color choices for cabinetry. They are being mixed with other colors, complementing wood stains or even being used as the dominant color alone," according to Stephanie Pierce, director of design and trends at MasterBrand Cabinets.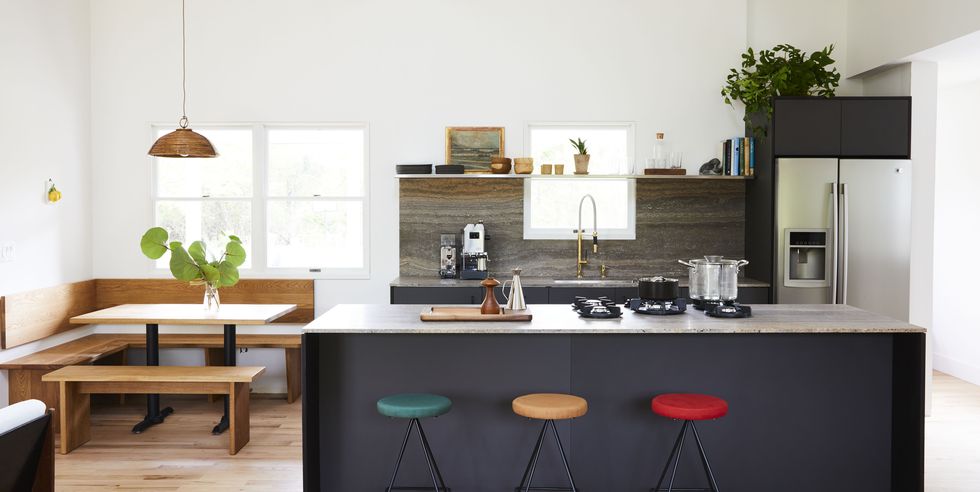 COMBINING RUSTIC AND MODERN STYLES
"It's fun playing soulful, rustic finishes like unlacquered brass and silver travertine off clean, modern stainless steel, like this Franke chef's station sink teamed with the solid brass culinary faucet by California Faucets. I also think it's beautiful when natural stone is used in a honed finish and allowed to patina naturally."
Subscribe to our newsletter
Promotions, product updates, and best offers. Directly to your inbox.
Browse through our collection
NORDIC FLOOR LAMP
When a room calls for understated modernism, this floor lamp answers with the perfect balance of minimalism and statement-making design. The energy-efficient built-in LEDs cast a warm glow from the slimline bar base. Finished with a classic silk-wrapped cord, as beautifully displayed as hidden.
BUY
SIMPLE BAR TABLE SET FOR BREAKFAST
Upgrade your living space with this simple yet versatile dining set. The timeless design of the set will add elegance to any kitchen or dining area. With an easy-to-clean tempered glass tabletop and four-leg metal chairs, it ensures comfort and long-lasting use. Our The Brand Decò Pub 3 Piece Dining Set makes a mainstay in the home for countless family gatherings!
BUY
TRADIZIONALE: LUXURY KITCHEN FAUCET
Tradizionale is with no doubt one of the most complete lines. Various versions of three holes and single hole mixers, the option to modify components and dimensions through our MADE TO MEASURE department, and eight different handles and levers available allowed us to use it in many projects around the world.
BUY