Choose the best bath towels | Pick the right towels to complement your space
A bathroom towel is for more than just drying your hands or towelling off after a shower. Towels can and should be decorative bathroom features that reflect the style of the room and the owner. Emphasise and complement the bathrooms colour scheme, and show off your personal taste with the right towels. The colour should complement the bathrooms walls, curtains, and bathroom accessories, as well as your own stylistic sensibilities.
Look for quality
If you want the perfect bathroom towels, you need to look for quality. Bathroom towel quality is determined by the material the towel is made of and the GSM, which is the grams of material per square metre. The higher the GSM, the more absorbent the towel will be. The minimum GSM you should consider is 550 GSM; anything less will not be very absorbent. You will also want to purchase cotton towels because cotton does an excellent job of absorbing water and is extremely soft. Egyptian and Supima cottons are the best. Another good material for bathroom towels is a bamboo/cotton-fibre blend, which produces an absorbent, silky material.
Inspect the towels before buying
Don't base your decision to purchase towels solely on the manufacturer's tag. Towels can have the right GSM and be made of the right materials yet can differ in feel depending on the manufacturing techniques used. Unfold the towels and feel them. Do they feel soft and fluffy? Are the fibres sticking up or laying flat? Does the towel feel heavy? A good-quality towel should have a good amount of weight to it, should feel soft and fluffy and have fibres sticking out.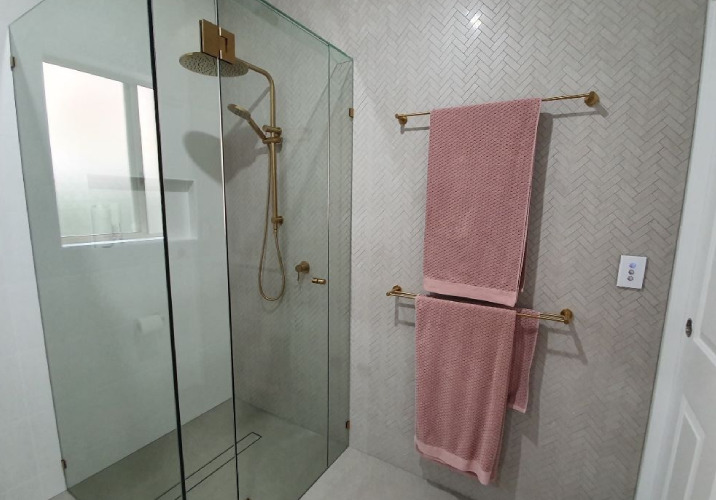 The price
You should expect to pay more for high-quality towels than poor-quality ones, but in the long run, you will actually be saving money because high-quality towels last much longer than lesser-quality towels. You can, however, save some money and get a good deal by shopping around. Look for sales at department stores and linen stores. With a little searching, you may be able to save as much as 50% on the purchase price of your new bathroom towels.
Color
The color of your bathroom towels should match the design of your bathroom. Classic white towels will match any bathroom, but the white color stains easily. You can opt instead for neutral tans, browns or greys. However, if your bathroom is boring or dull, you might want to get bright-coloured towels. Bright greens, blues, pinks, reds, oranges, purples and the like may give your bathroom the extra boost it needs to look cheerful and fun.
If you're still unsure, a good idea is to consider your shower curtain colour. Find a colour you like on your shower curtain and bring it out with towels that match. Emphasizing a pleasing colour in your shower curtain by placing other matching details around the bathroom can tie the whole room together.
Patterns
Patterns should be used sparingly. Bathrooms are often small spaces, and loud patterns can loom large. If you find a pattern you like, you can tone it down by using it with other towels in solid, neutral shades.
Towel storage tips
Let's see the tips!
1. Keep accessibility in mind
Your home is where you should feel comfortable and where everything should be within easy reach. When storing your bath linens and towels, some handy tips to ensure easy access include investing in a decorative towel hamper or basket or a bath cabinet or drawers. Installing a stainless steel rack near your shower space is another option.
2. Save space by using the rolling method of storage
Try rolling your towels before storing them. The rolling technique helps save precious space and also reduces wrinkles. The rolled towels can then be neatly piled in a basket or an open shelving cabinet. To add a special touch, you can explore your creative side and install a repurposed wine rack to store your towels in.
3. Enlarge a small bathroom by installing a railed towel rack
Investing in a stainless steel rack for your bathroom is a good space-saving idea. The upper shelf can be used to store fresh towels, while the bottom rail can be used to hang the towels that are being used.
4. Store your towels in sets and make them appealing to the eye
A good idea, especially if you are using an open cabinet to store your fresh towels, is to pack them in matching sets. This can be achieved by rolling the bath towel, hand towel and washcloth with the largest towel as the cover. Tie them together with a ribbon to add an aesthetic touch. Having your towels in sets can save you the trouble of searching for a particular matching piece when required.
5. Store your towels according to usage
When using a chest of drawers or a storage rack, pile your towels with the most recently used ones at the top and the cleanest and freshest ones at the bottom. This method can help prevent dust from collecting and will ensure even usage.
6. Install wall shelves to save space and provide efficient storage
Use wall shelves liberally yet aesthetically, to maximise storage space in your bathroom. Various ideas include installation on an open wall, above the toilet or over a window or door. Install additional shelving units in your bath cabinets. Invest in wicker baskets to hold your towels, which can be placed on the shelves. Using adjustable shelves allows flexibility to add extra racks or rearrange your towels.