Kitchens to get inspiration from:
Being short on square footage should never inhibit the design potential of your kitchen. You'd be surprised at what you can do to make a small kitchen look and feel grand. We know it can be hard to avoid a cluttered mess in a small space, especially for those living in city apartments, so whether you're working with hundreds of square feet or just a couple dozen, getting your cooking space into tip-top shape—both aesthetically and functionally—is just a few creative ideas away from becoming a reality. Below, see how these gorgeous homes use their small kitchen layouts to their advantage, with bold cabinetry, double-duty accent pieces, sleek lighting solutions, and more. So read on for 58 striking kitchen designs that are small on space—but big on style.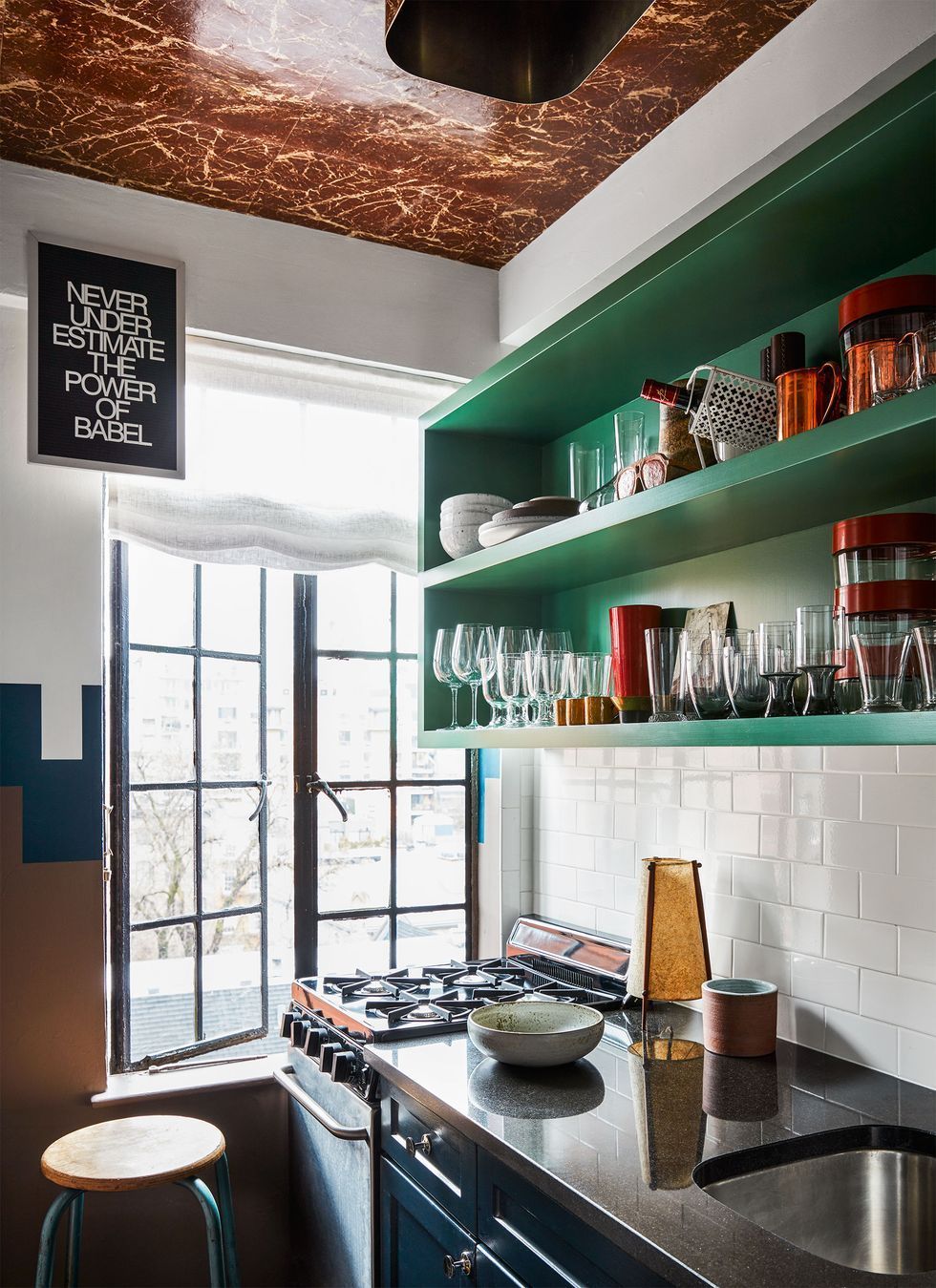 OPEN SHELVING AND WALLPAPERED CEILINGS
Opt for open shelves instead of cabinets, like designer Charlie Ferrer did here in his Manhattan studio apartment. He added Donald Judd–style green shelves and papered the ceiling in a vintage Italian wallcovering he'd bought in Provence, which he says reminds him of "carpaccio."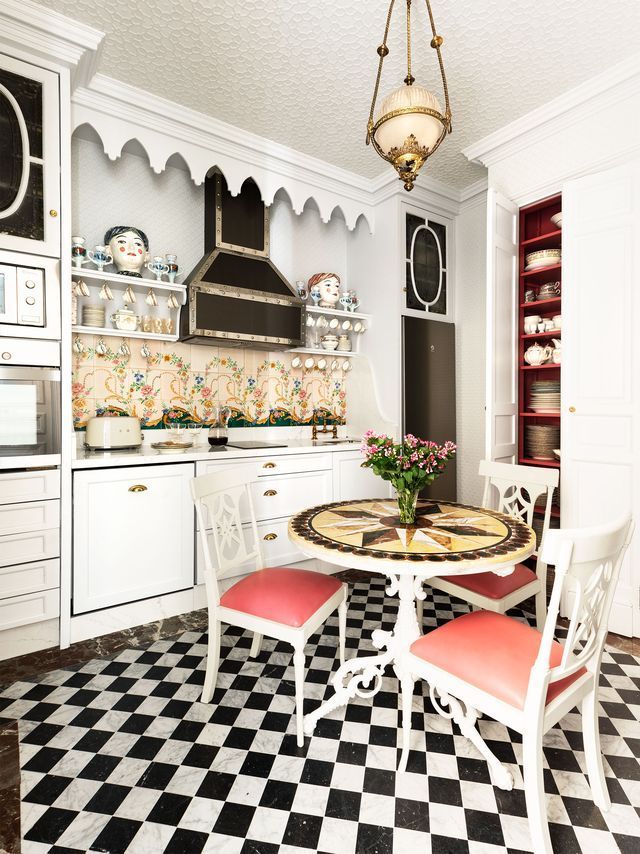 BRING THE OUTDOORS IN
In interior designer Amaro Sánchez de Moya's Seville, Spain, pied-à-terre, he brings the outdoors into his kitchen with a vintage Spanish garden table and chairs. They blend seamlessly into the overall motif of this fun, country-styled kitchen.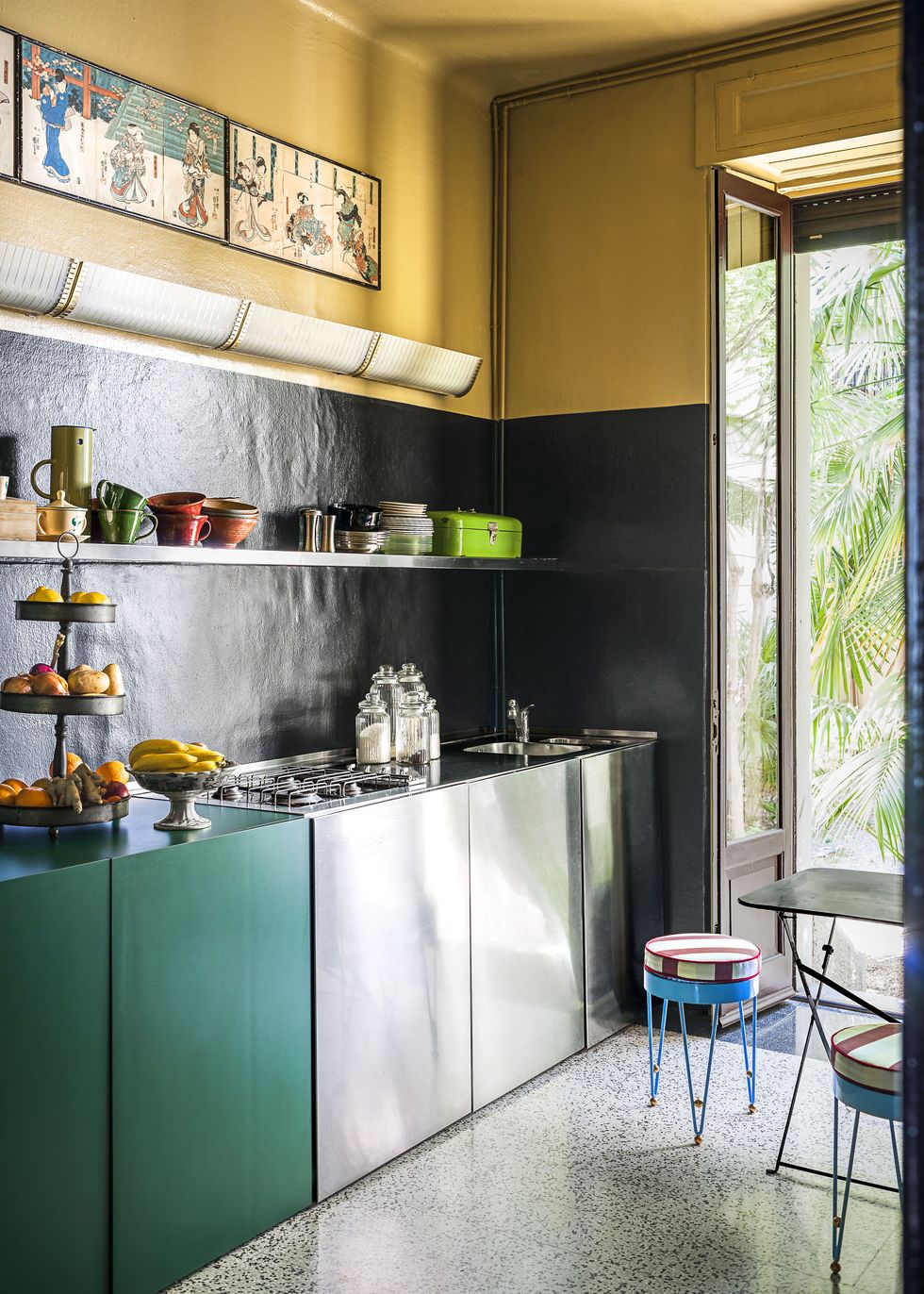 TWO-TONED WALLS
In the Milan apartment of Emiliano Salci, the creative director of Dimorestudio, the kitchen is painted in two colors—black and yellow. The walls bring a distinct flair to the space, and even somehow coordinate with the unexpected green counter.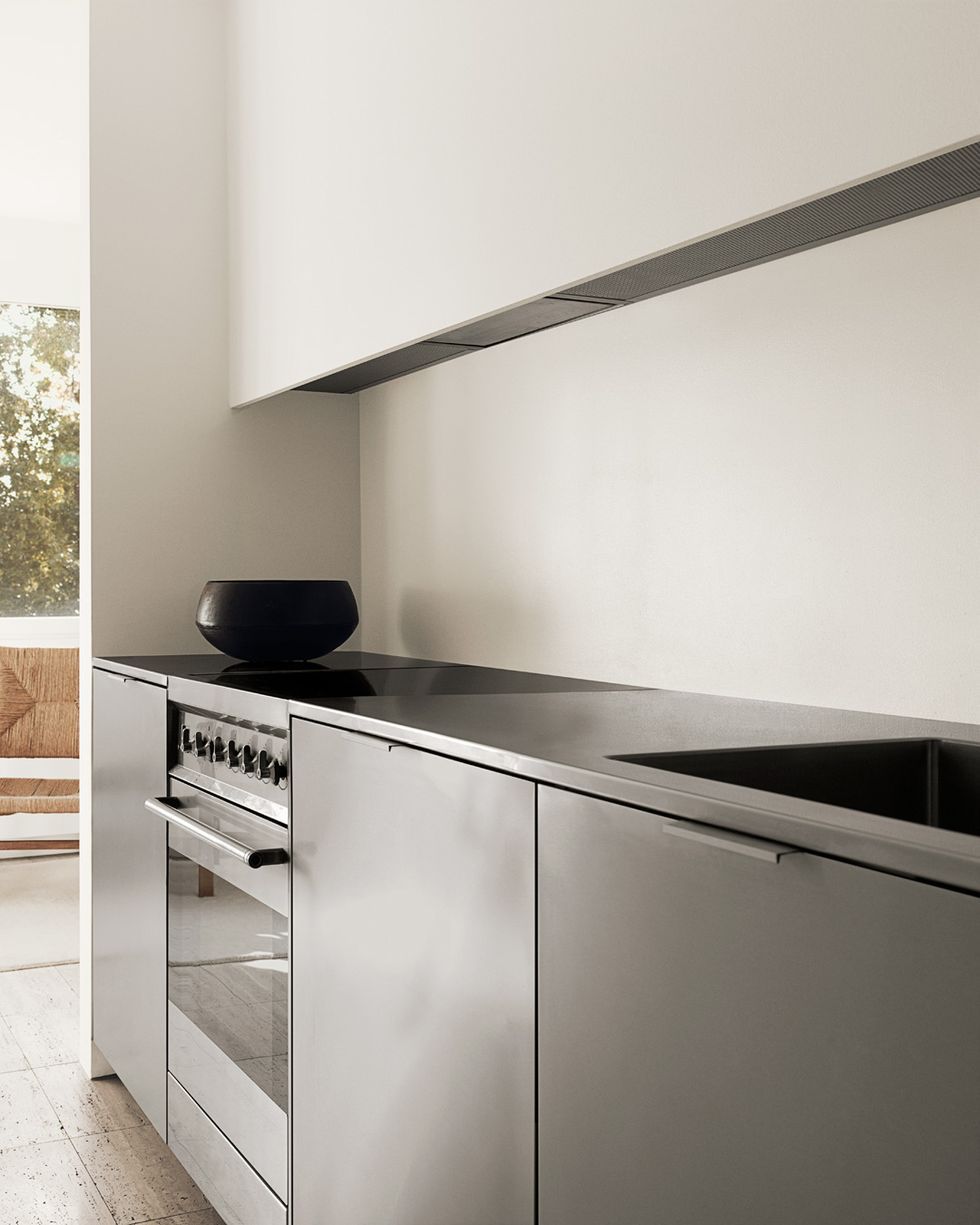 MINIMALIST AND MODERN
If you like minimalism taken to the extreme, look no further than this modernist Stockholm apartment belonging to a family of four. The kitchen features stainless-steel countertops and lower cabinets, which allow for ample storage down below—rather than at eye level—for a sleek and clean look.
BAR CART OR ISLAND?
Take note: A bar cart from the Thom Filicia Home Collection for Vanguard is set in the center of the kitchen in designer Thom Filicia's Manhattan apartment. Instead of investing in a large island in a compact kitchen, try a smaller, decorative table or cart like this for extra storage and work space.
REFLECTIVE SURFACES
Small yet striking, this Jean-Louis Deniot–designed Miami kitchen features custom stainless-steel cabinetry that has been laser-printed with an abstract pattern, reflecting the natural light while creating a sense of movement.
STREAMLINED SILHOUETTES
This snug bachelor pad kitchen features big design moments, with a sleek Carrara marble countertop, brass barstools by CB2, and pendants by Tom Dixon, all of which make a statement while taking up minimal visual real estate.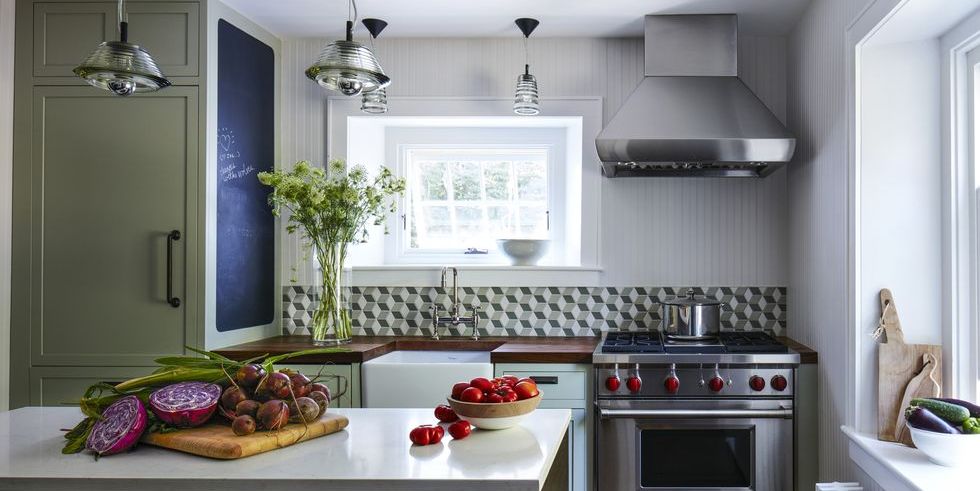 SMALL STATEMENT BACKSPLASH
While a full backsplash may overwhelm a petite kitchen space, actress Amanda Seyfried's weekend retreat proves that a little goes a long way. The tiles by Heath Ceramics draw the eye in, while leaving plenty of white space to keep the area bright.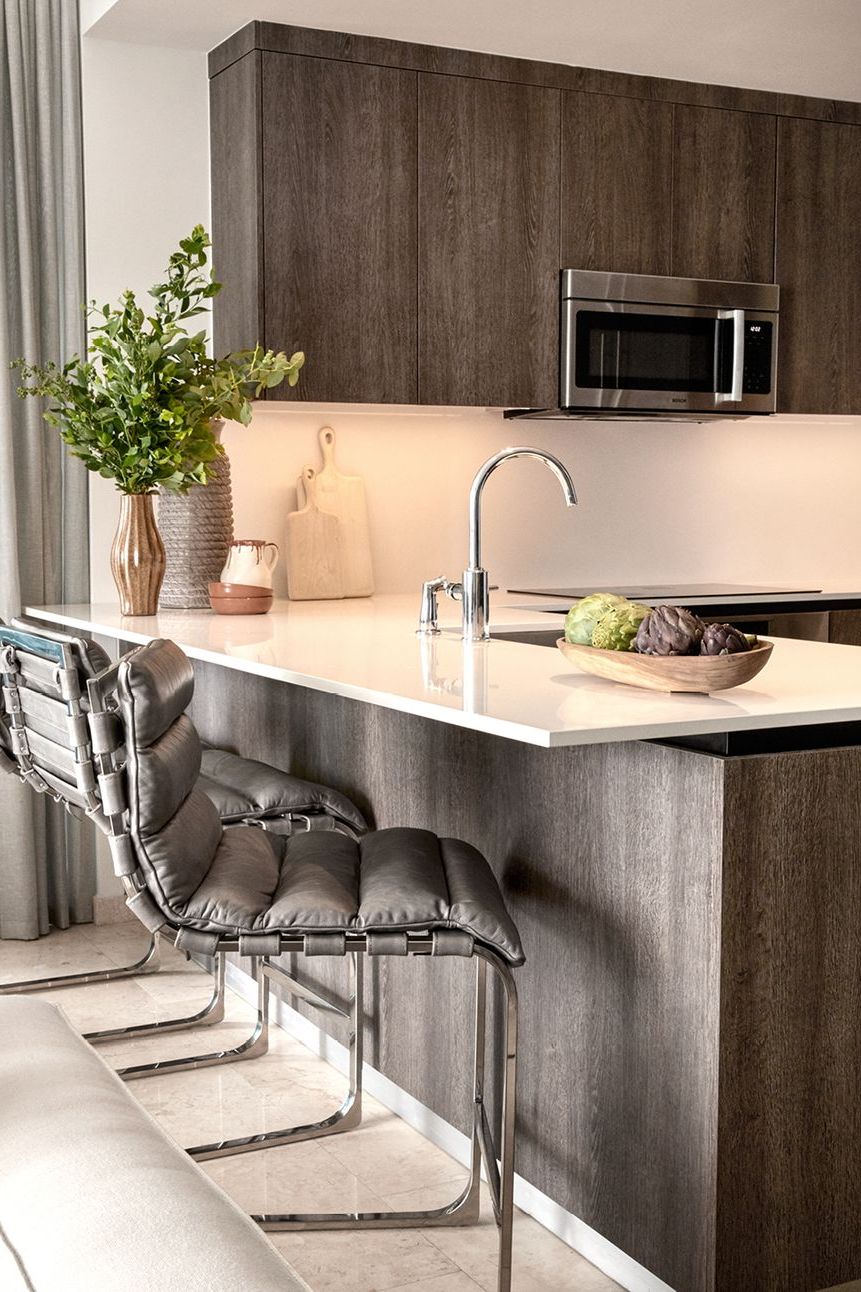 MULTI-FUNCTIONAL PENINSULA
Making the most of your countertops is key to a functional kitchen, and the cook space in model Joan Smalls's Miami penthouse offers a place to cook, wash, and dine all in one.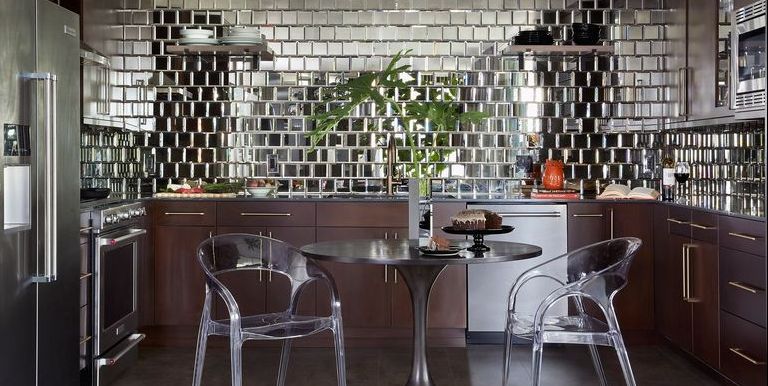 MIRRORED BACKSPLASH
The mirrored tiles of John McClain's kitchen backsplash reflect light while adding depth, making up for the small square footage and minimal natural light.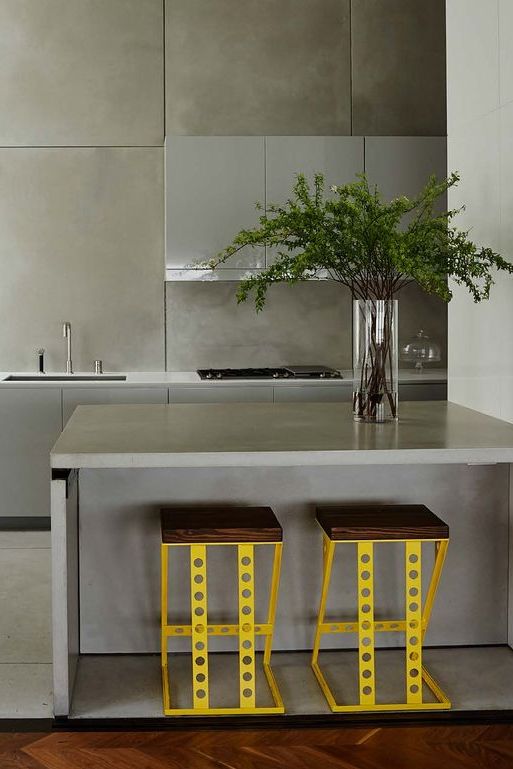 DISAPPEARING KITCHEN
In this futuristic Greenwich Village apartment, a sleek gray kitchen features several large door panels, which are fully integrated into the walls and millwork to conceal the small space when needed.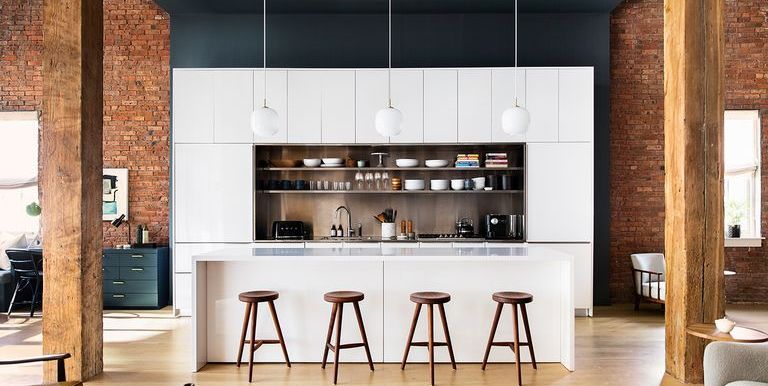 COMPACT LOFT LIVING
In an open-concept loft designed by Bella Mancini, the petite kitchen space flows while feeling distinct, with white cabinetry and countertops, backdropped with dark paint.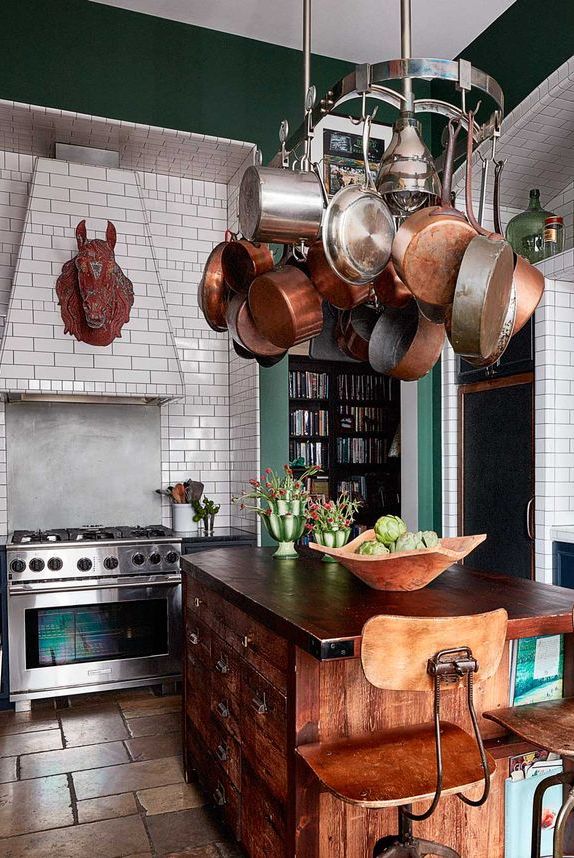 POTS HUNG HIGH
Event designer Bronson van Wyck's Manhattan kitchen features an Urban Archaeology pot rack hanging over a salvaged pine island, putting the typically underutilized space to good use.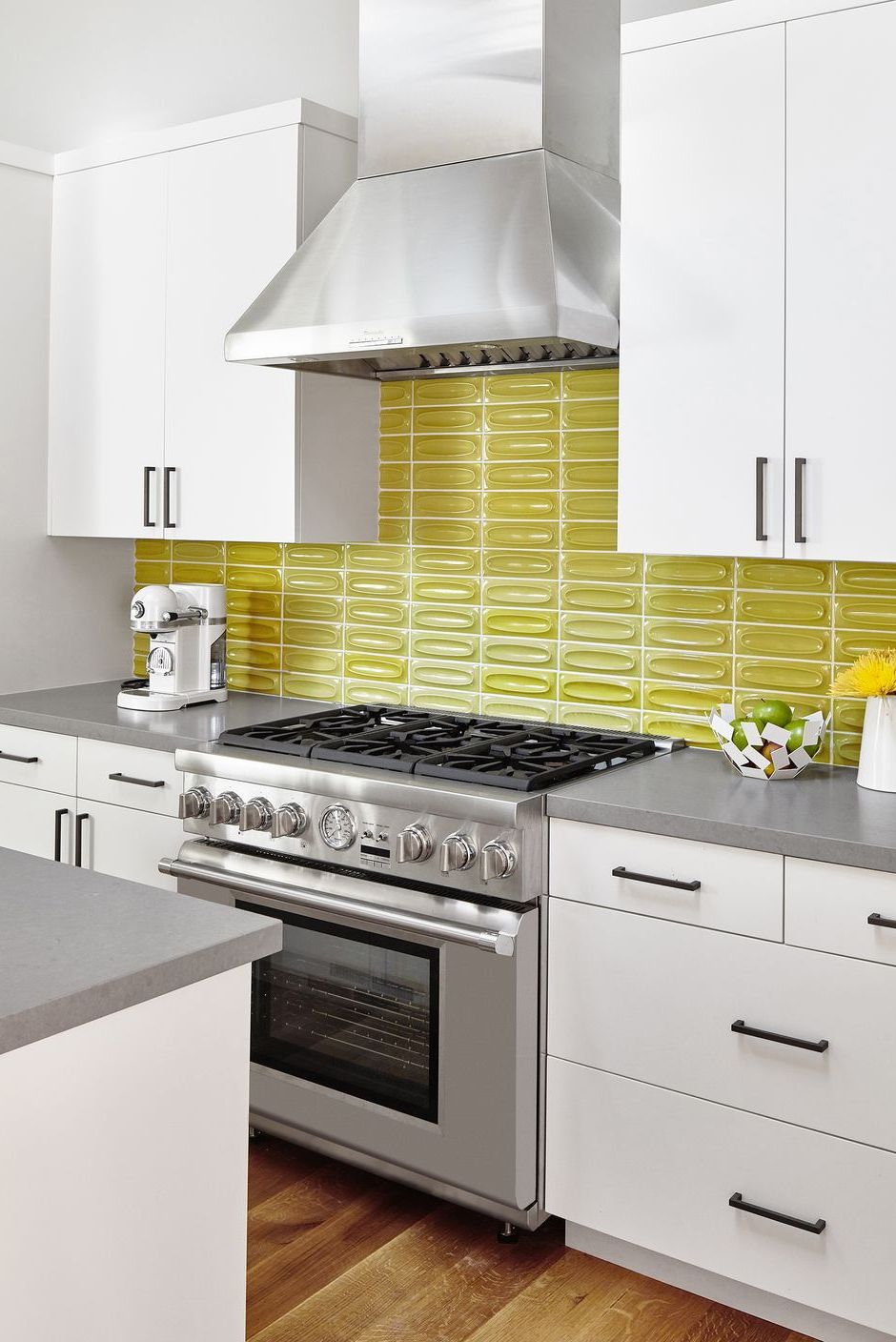 COMPACT DESIGN
Just because your kitchen space is small, doesn't mean you can't have all the amenities. This compact design by Jennifer Jones features storage, cooking surfaces, and a statement backsplash.
SUNNY SKYLIGHTS
In a minimalist—and monochrome—West Village apartment, the petite kitchen feels light and bright with its skylights and streamlined design.
BLACK AND WHITE KITCHEN
In a PR maven's glamorous New York City apartment, Sam Still artwork hangs on a wall covered in a Madeline Weinrib wallpaper. The antique birthing chair is from New Orleans and the custom kitchen island has a Carrara marble top.
POOL HOUSE KITCHEN
Designer Sarah Wittenbraker opted for glossy blue cabinetry, toile wallpaper, and cement tile for a pool house kitchen.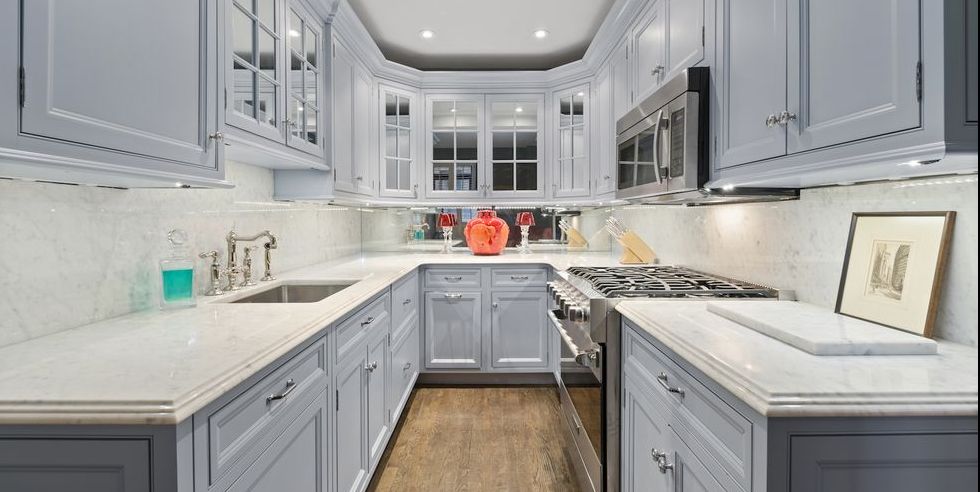 SMART LIGHTING
Pastel blue cabinetry, white marble countertops, and bright recessed lighting keeps the small kitchen in Bill Wackermann's apartment feeling spacious and clean.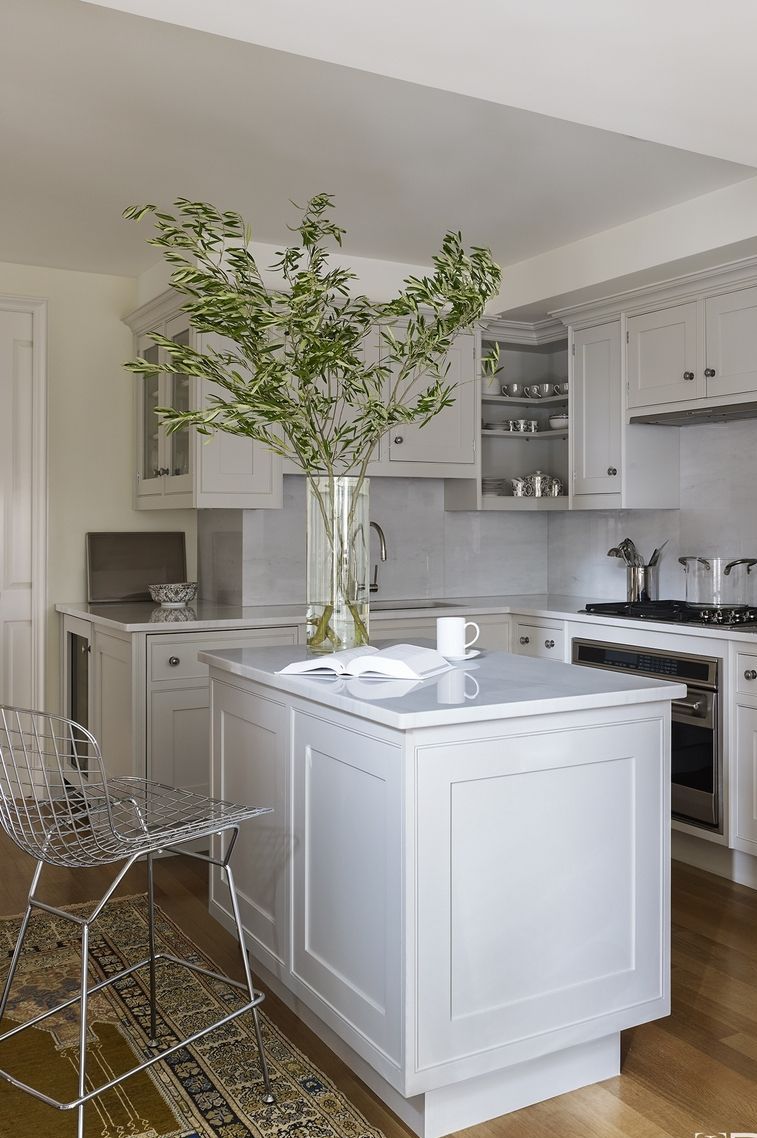 CITY KITCHEN WITH A COUNTRY FEEL
This New York apartment's kitchen boasts a range by Wolf, the sink and fittings are by Lefroy Brooks, the cabinetry is by Smallbone of Devizes, and the Bertoia barstool is by Knoll.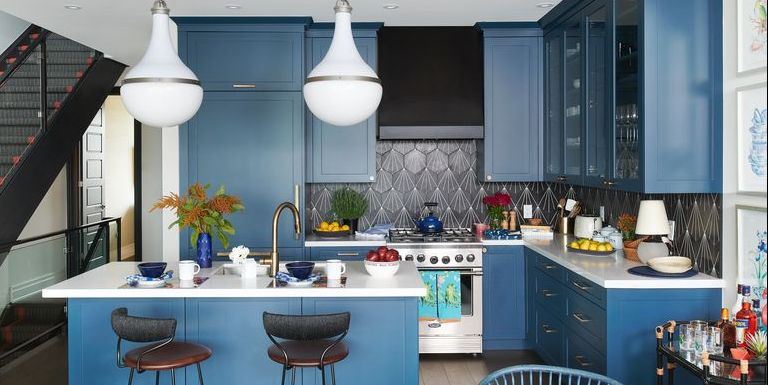 MOODY BLUES
An open-concept kitchen in this Canadian lake house features moody blue cabinetry that extends up to the ceiling, giving the illusion of a larger space while drawing the eye to the statement shades.
Subscribe to our newsletter
Promotions, product updates, and best offers. Directly to your inbox.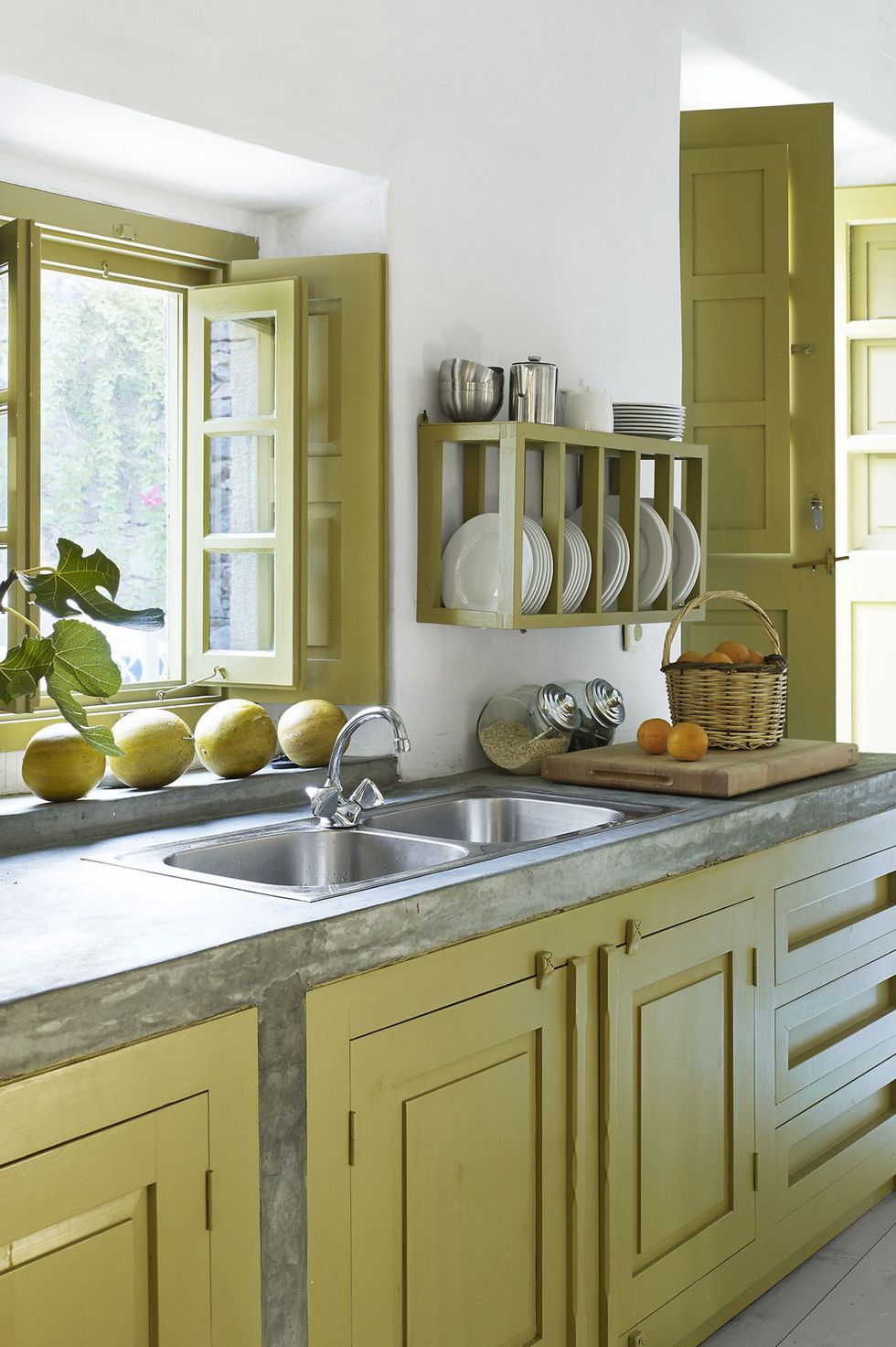 IMPACTFUL COLOR
The kitchen countertops are poured concrete, and the doors, window frames and custom cabinetry are all painted in a custom color that helps the single row of countertops make a bit impact in this Greek home.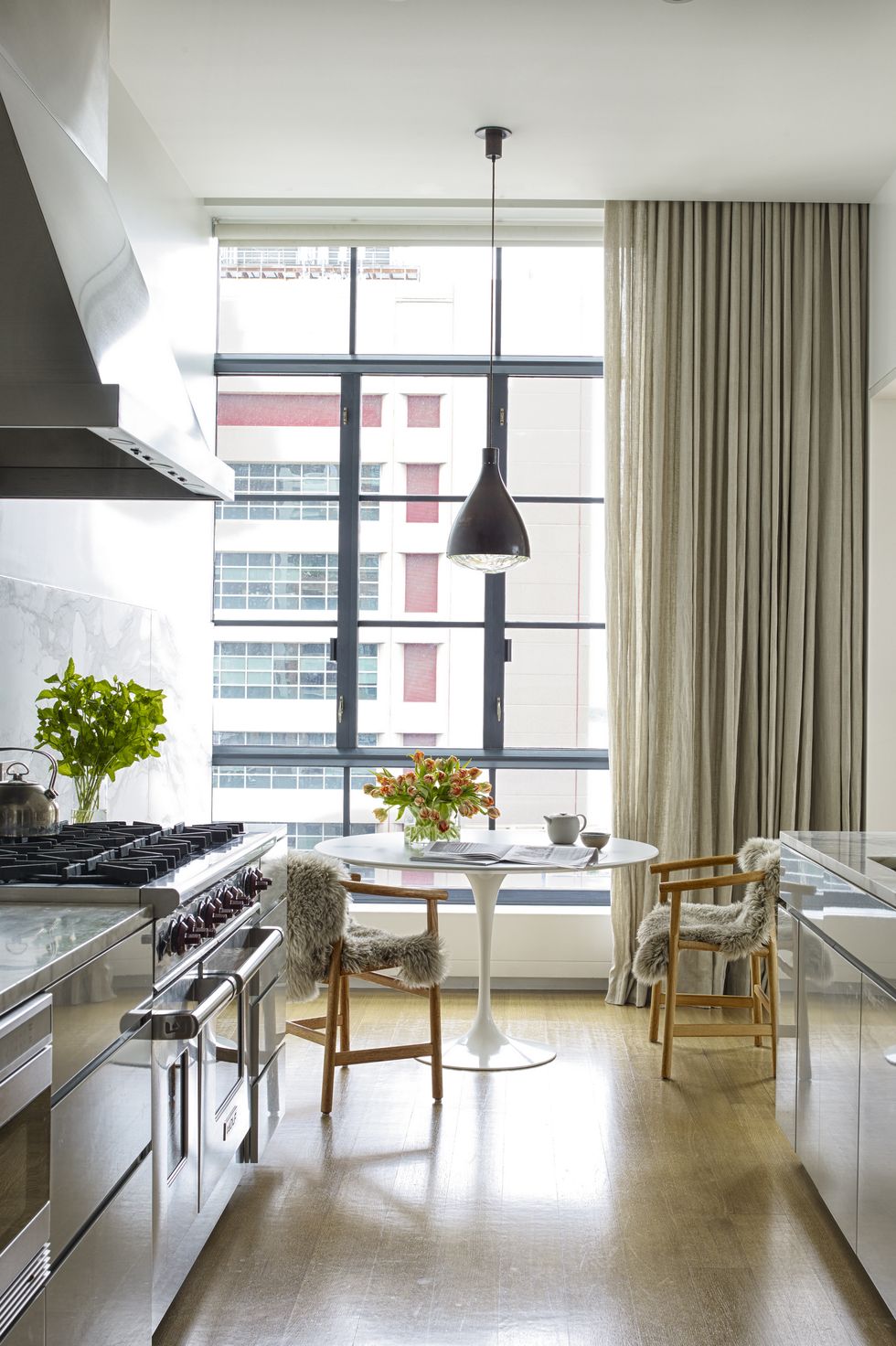 MODERN GALLEY KITCHEN
In the galley kitchen of a bohemian family home, the kitchen's range and microwave are by Wolf, the refrigerator is by Sub-Zero, the custom hood is by Vent-a-Hood and the countertop is Calacatta Gold marble. Hans Wegner chairs, purchased at auction, accompany a table by Eero Saarinen from Design Within Reach. The vintage pendant light is by Max Ingrand for FontanaArte.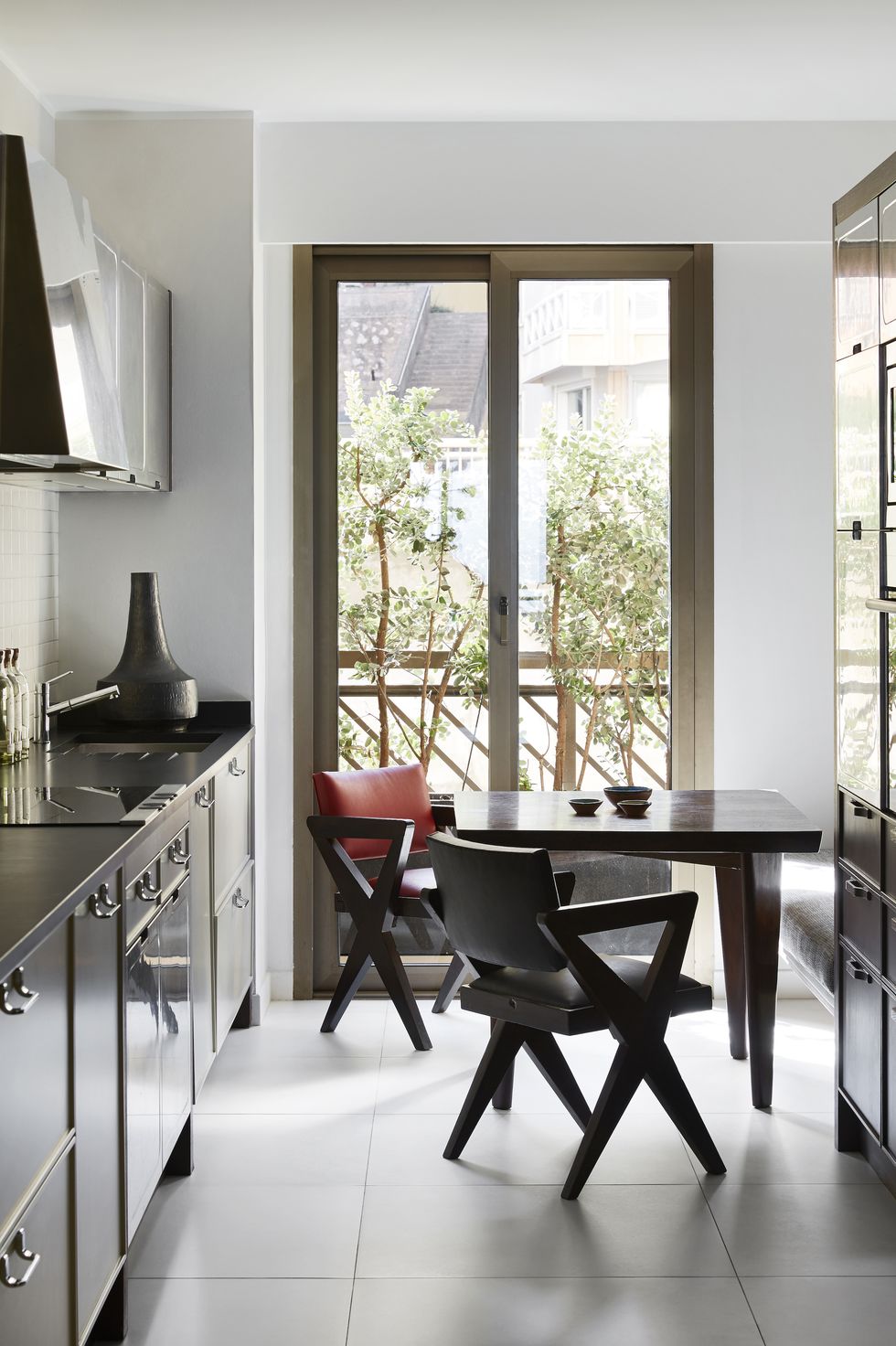 DARK AND SLEEK
In a Monaco apartment abundant with 70s whimsy, the small kitchen table and chairs are by Jeanneret. The oven, cooktop and hood are by Aster Cucine. Meanwhile, sunlight floods into the space, making it appear larger than it really is.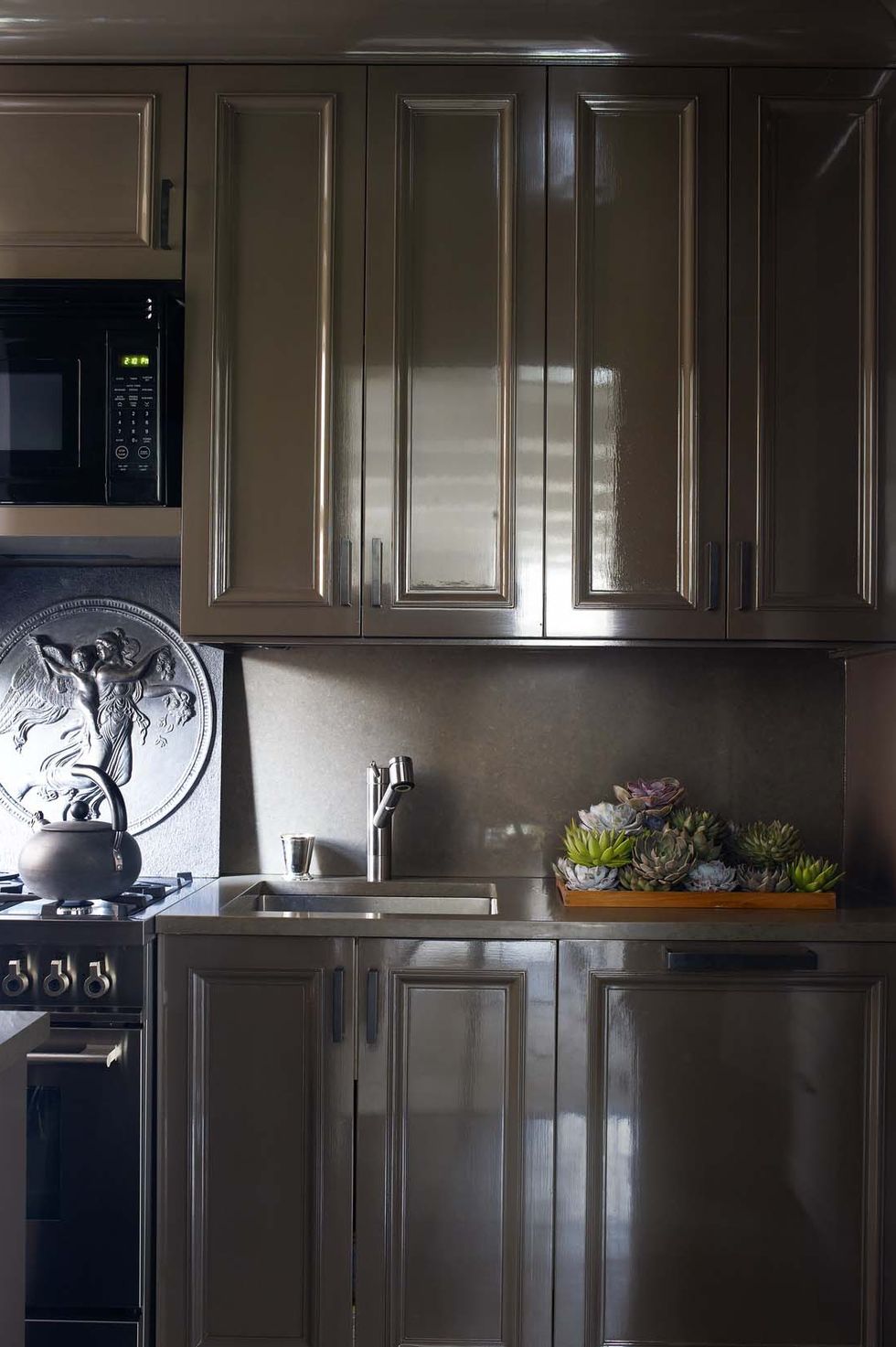 DARK YET INVITING
The kitchen in this neutral NYC apartment features cabinets lacquered in a custom shade by Donald Kaufman Color, proving dark shades don't always accentuate a room's small size.
Our story
Write your brand story to build a connection with your audience here.
NEUTRAL, MODERN KITCHEN
A modern kitchen by architect Achille Salvagni crafted for a storied Roman palazzo, combines a brass light fixture and a Venetian portrait from the 1780s.
BRIGHT AND AIRY
Fashion stylist-turned-decorator Estee Stanley transformed the kitchen in her Mediterranean-style Los Angeles home into a bright and airy space. The design includes a fresh white palette with stainless steel touches. To complete the look, Stanley opted for a Viking hood, a Waterworks faucet, and Ikea barstools.
SOPHISTICATED CHARCOAL
The Chelsea kitchen of Etsy's COO features dark charcoal cabinetry, which adds contrast to the white walls and marble countertop.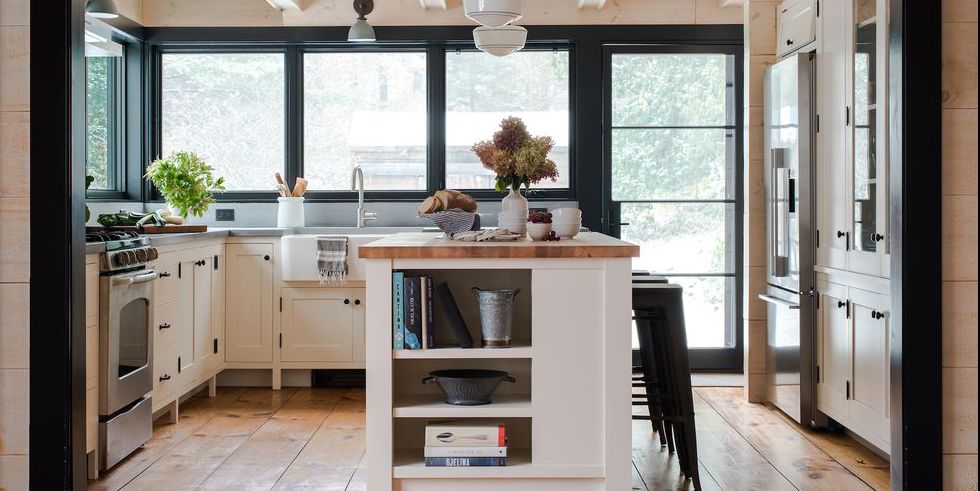 RUSTIC CONNECTICUT KITCHEN
For a kitchen in a Connecticut family home, design duo Vivian Lee and James Macgillivray collaborated with a local millworker Wayne Tobin. The appliances in the kitchen are from Miele, GE, LG, and Fisher & Paykel. Most of the light fixtures in the space are from Schoolhouse Electric, with the exception of the Minka ceiling fans.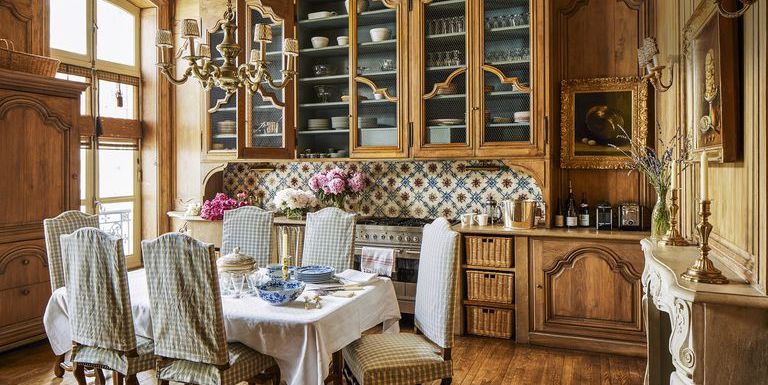 CHARMING PARIS KITCHEN
In a charming Paris apartment, an open-concept kitchen and dining area is outfitted with 17th-century French chairs, a Napoleon III chandelier, along with a backsplash featuring 18th-century Portuguese tile. The custom French oak boiseries and cabinets are in the style of the 18th century. The kitchen's flooring is antique oak and the fireplace is original to the apartment.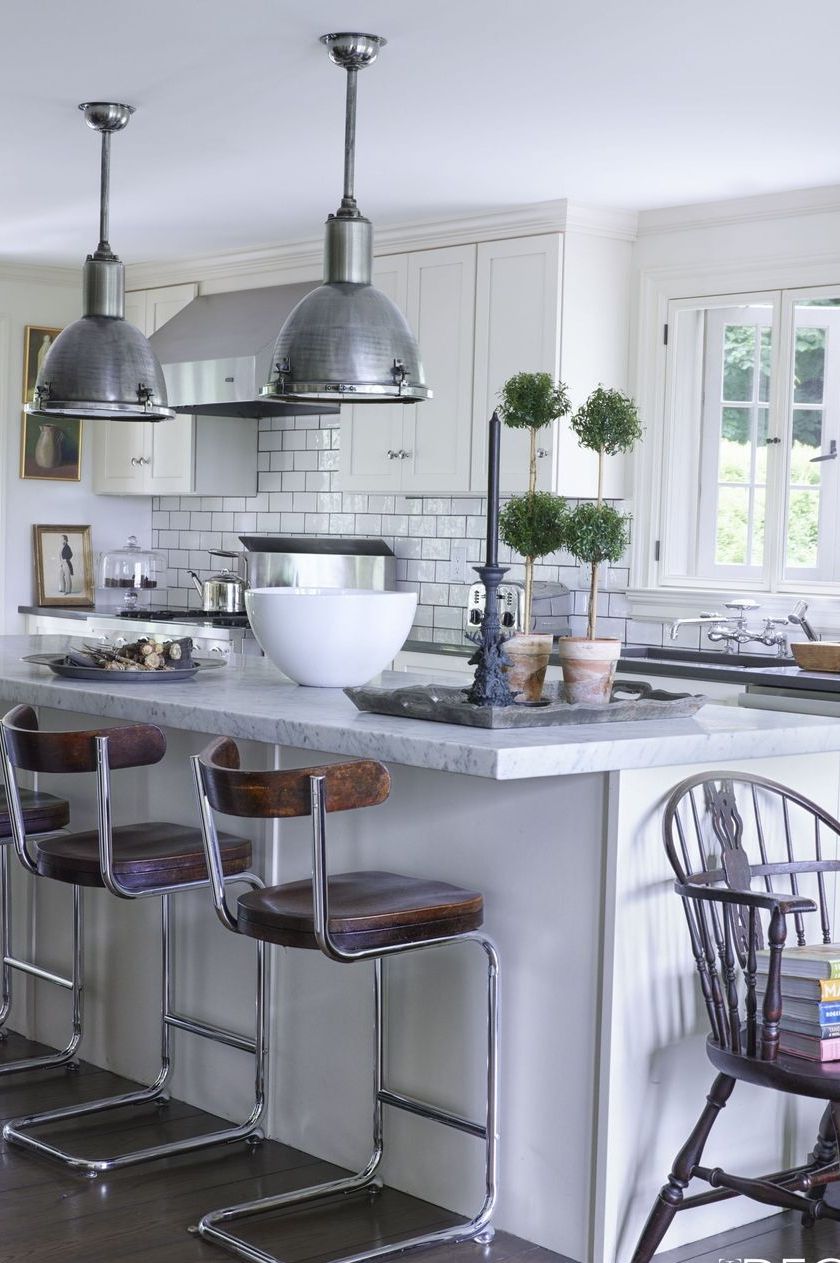 A MODERN FINISH
A 1930s Connecticut weekend house gets a modern makeover; In the kitchen, the island has a top of honed Carrara marble, the wall tiles are by Waterworks, the stove is Viking, and the stools are by York Street Studio; the 19th-century Windsor chair is a family heirloom, and the 1920s English pendants are from BK Antiques.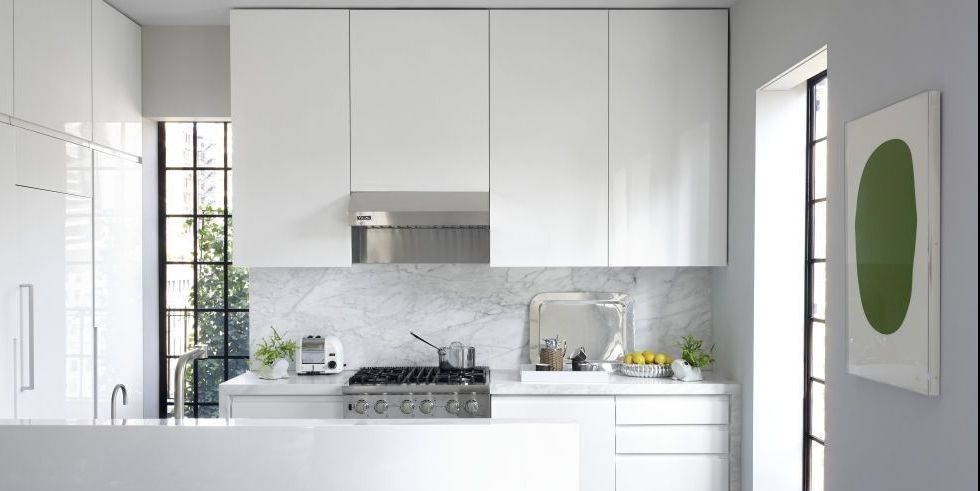 MODERN KITCHEN
In this Manhattan home, high above the city, the kitchen's lacquer cabinetry is custom made for a clean, modern aesthetic. It is echoed in style by the backsplash and countertop, made of Calacatta marble. The range is by Viking, the refrigerator is by Sub-Zero and the print is by Ellsworth Kelly.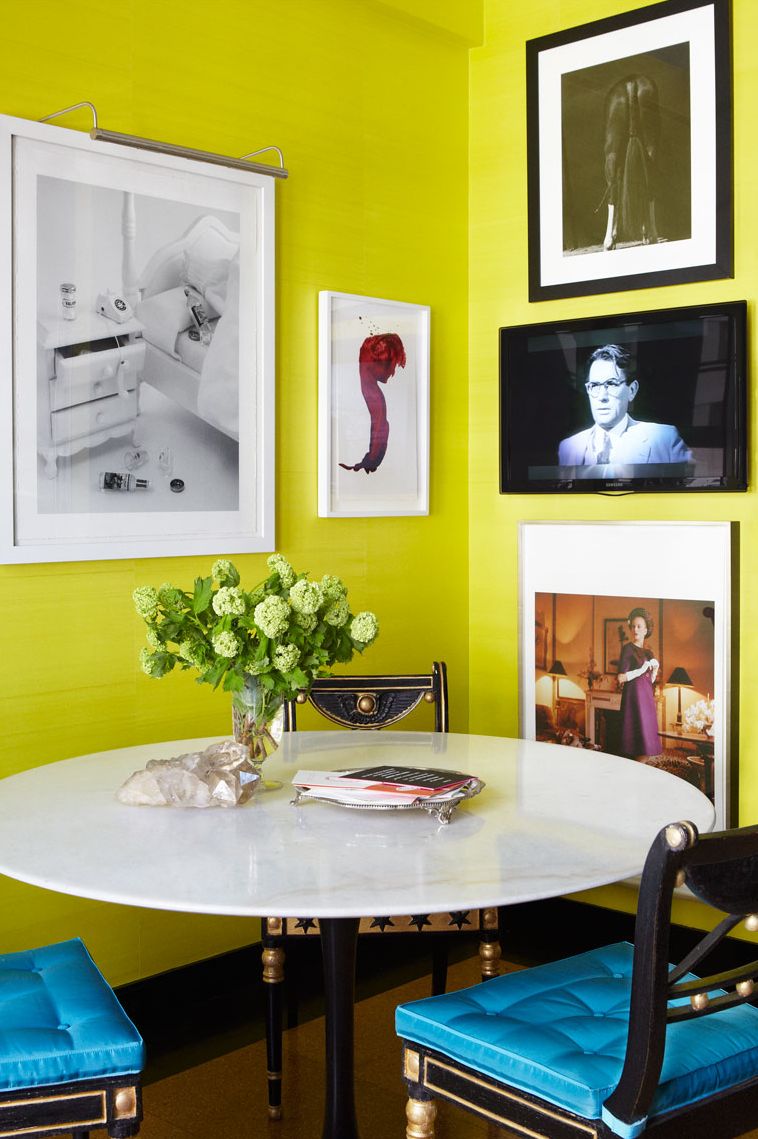 COLORFUL CORNER
Regency chairs with silk cushions surround a Saarinen table tucked away in a cheery corner of the kitchen in this colorful apartment. The walls are lined with vintage silk paper, the artworks are by, from left, Rachel Lee Hovnanian, James Nares, Steven Klein (top), and Mark Shaw, and the television is by Samsung.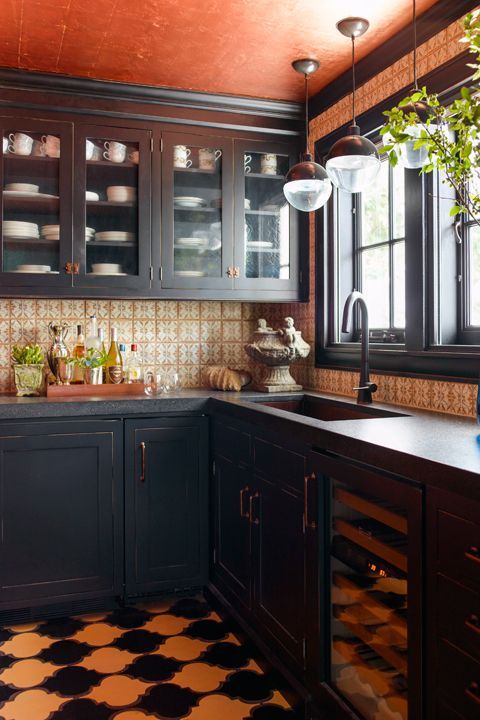 AMBER KITCHEN
Pops of orange infuses energy into a small kitchen design scheme. In an effort to add more light to the space, the ceiling is covered in a textured orange wallpaper. The combination of a light backsplash, paired with dark wood cabinetry and countertops, open up the area.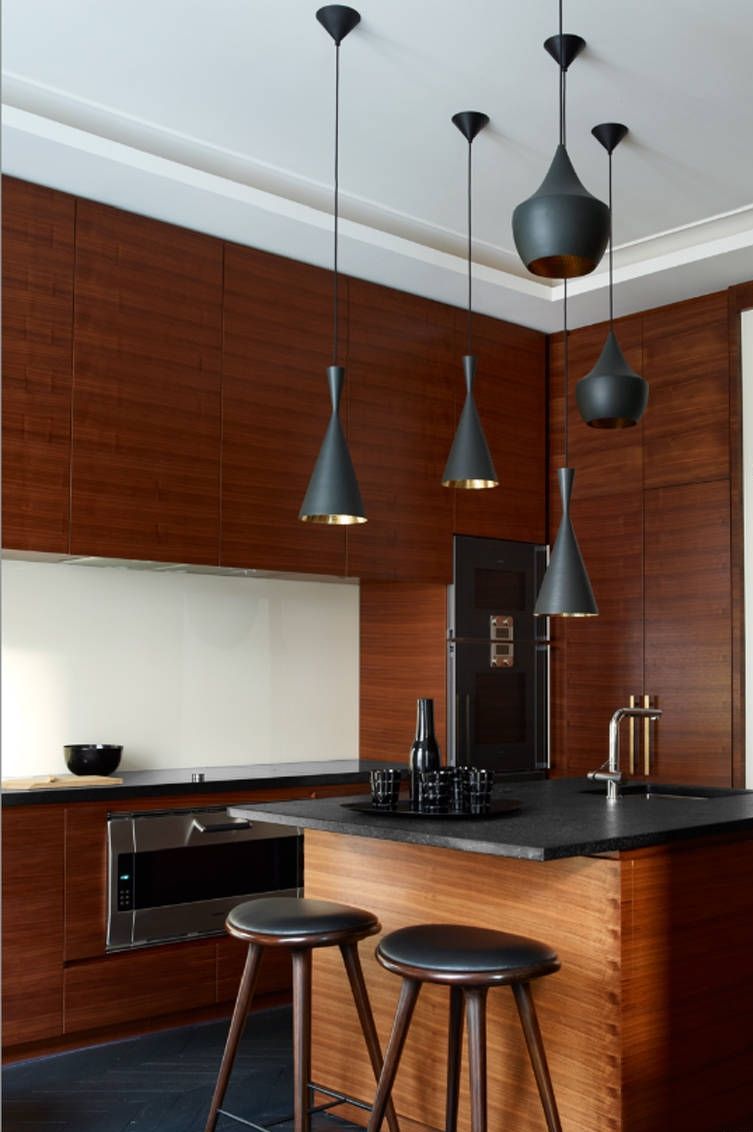 PARIS KITCHEN
In a glamorous Paris apartment, the kitchen embraces a fresh vision of luxury with mod pendant lights by Tom Dixon and a custom-made, walnut-veneer kitchen island and cabinetry. The stools are by Mater Design, the ovens and refrigerator are by Gaggenau and the sink fittings are by Franke.
GREY AND WHITE HUES
Grey and white hues add charm to a farmhouse kitchen design featuring a range, hood, and sink by Smeg, fittings by Vola, Carrara marble counters, and cabinetry painted in Farrow & Ball's Cornforth White.
BLUE KITCHEN
In a Manhattan home, this small blue kitchen features wood-and-marble cabinets commissioned by an artisan in India. The unique light fixture is by Harry Allen, and the appliances are by GE. The walls and carpet anchor the room in a dreamy blue palette.
COZY KITCHEN
A cozy kitchen in a Greenwich Village penthouse showcases a farmhouse sink, skirted in a Ralph Lauren Home linen, an antique chest found at a Paris flea market, and a French sconce.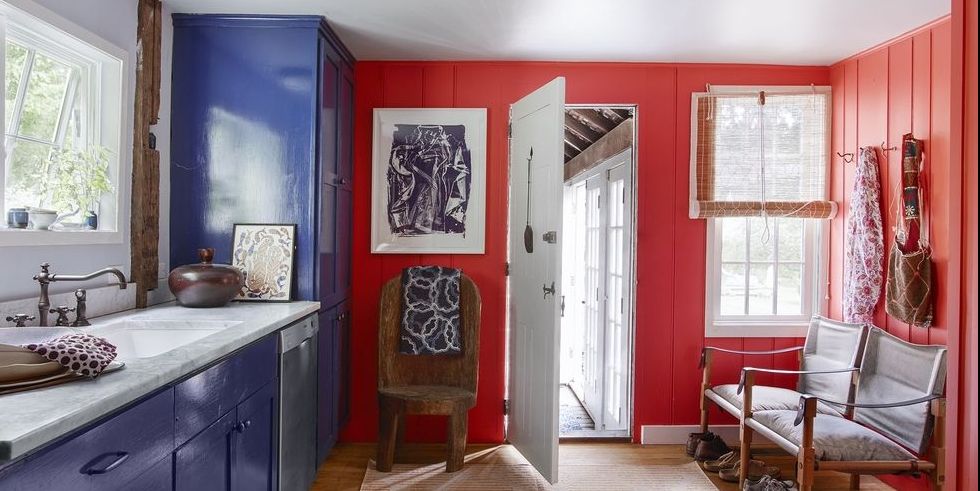 QUAINT AND COLORFUL
Fabric impresario John Robshaw's Connecticut country house is quaint and colorful. Just because the kitchen is petite doesn't mean it is any less full of life. The kitchen's settee is by Richard Wrightman, the sink fittings are by Newport Brass, the ceiling lights are by Restoration Hardware, the countertops are marble, and the custom dhurrie is by Robshaw. The walls are painted in Rose Quartz and the cabinetry in Starry Night, both by Benjamin Moore.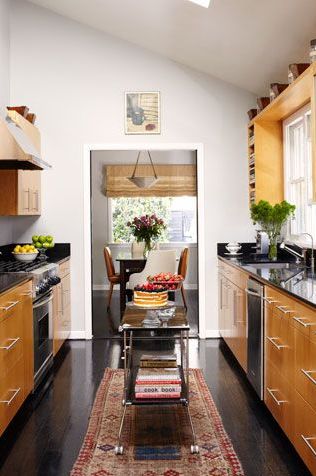 CRAFTSMAN COTTAGE
In the kitchen of this 100-year-old Craftsman cottage, a super slim island adds dimension—and extra cutting space—to the small kitchen. The alder cabinetry is custom made, the countertops are black granite, and the vent hood and range are by KitchenAid.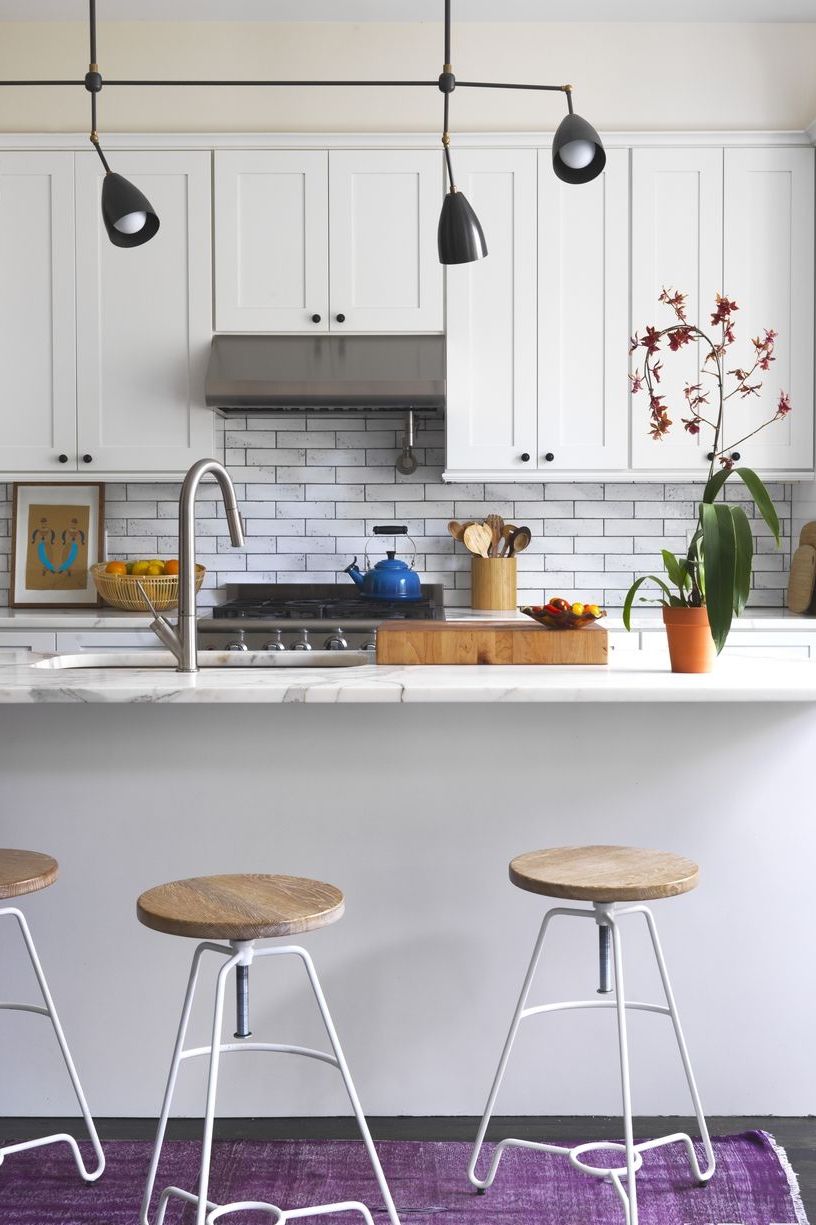 ALL-WHITE KITCHEN WITH VIBRANT ACCENTS
In a Brooklyn townhouse owned by wallpaper maven Kate Reynolds, the kitchen counters are Calacatta Gold marble, the backsplash tile is by Waterworks, the range is by Capital, the stools are from ABC Carpet & Home and the light fixture is by Apparatus.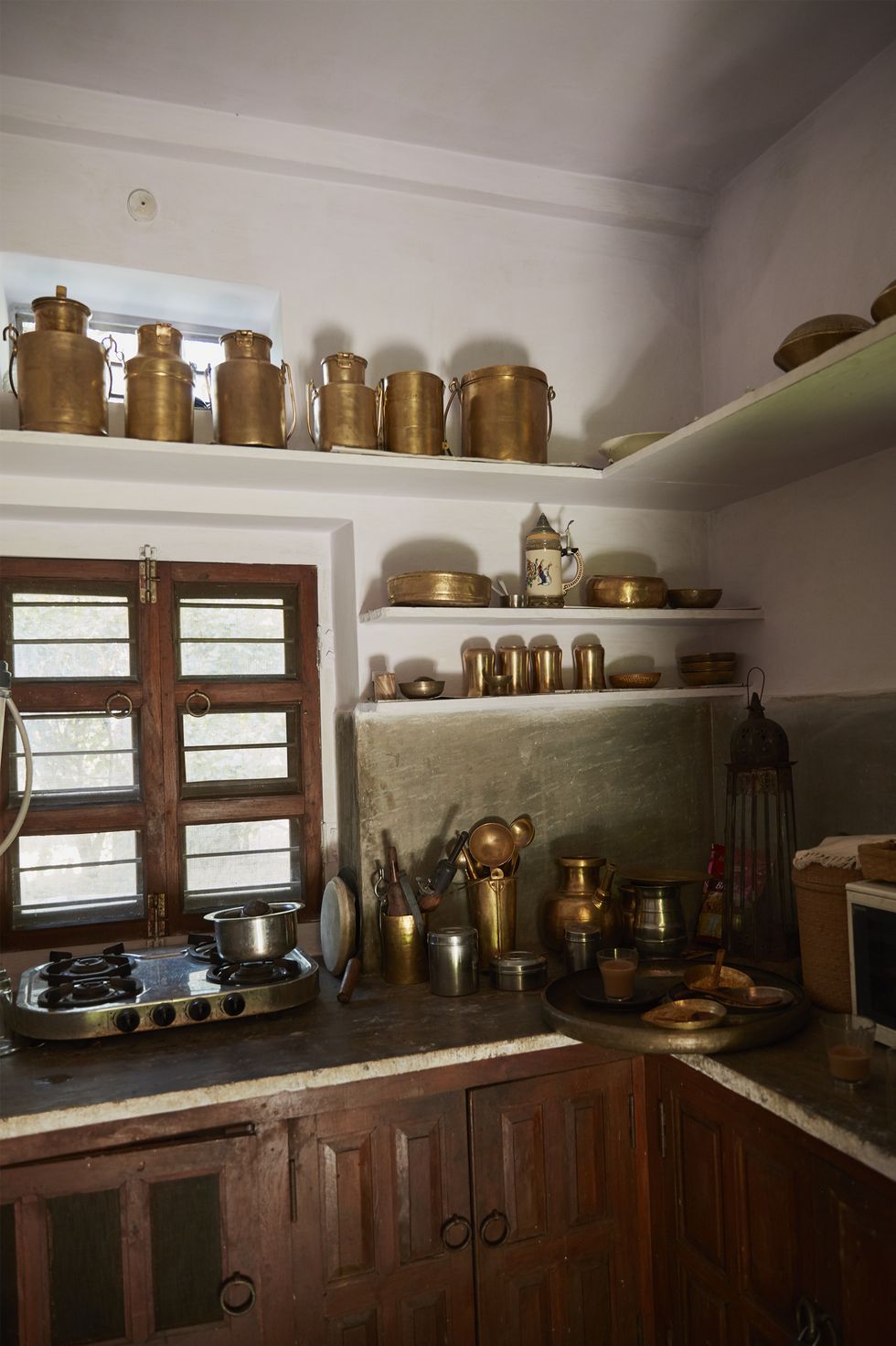 INDIAN FARMHOUSE KITCHEN
The country home of the Kasliwal family—owners of the legendary Indian jewelry house Munnu the Gem Palace—is in a converted cowshed on the outskirts of Jaipur. In the kitchen, the custom cabinetry was made by a local artisan; brass urns hold wheat, rice, and other grains.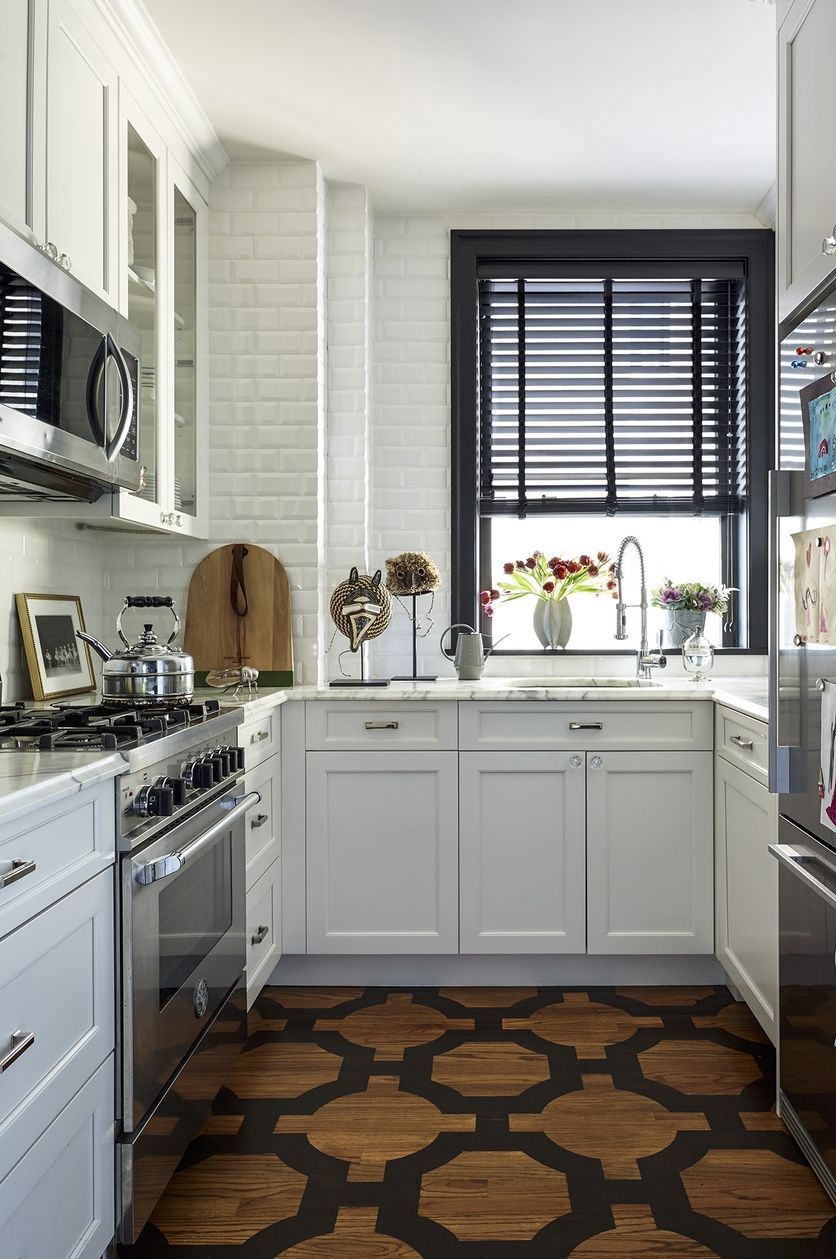 STYLISH CITY LIVING
Like most Manhattan apartments, designer Kimille Taylor's Upper West Side abode has a pint-sized kitchen—but that doesn't mean she had to sacrifice style. The chic space contains a Bertazzoni oven, a Fisher & Paykel refrigerator, and marble counters. The subway tile is from Home Depot and the unique flooring is oak painted with a custom design.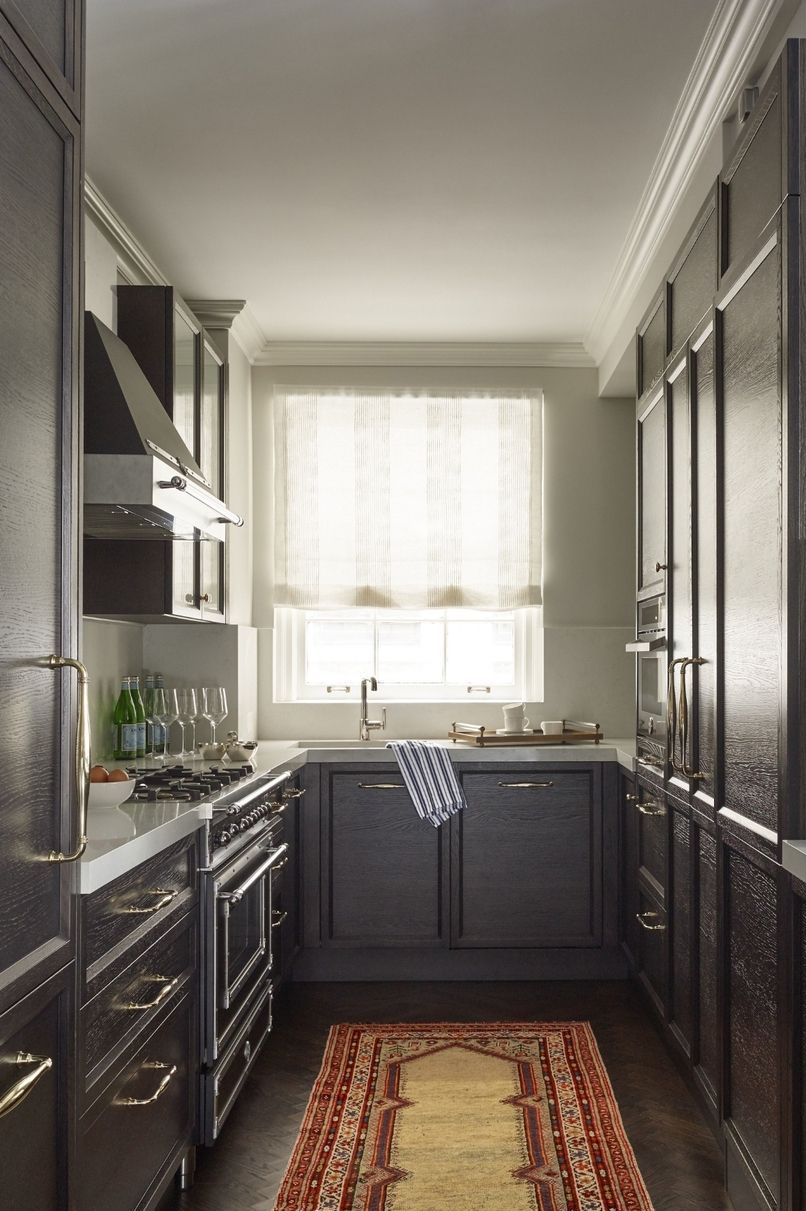 DARK CABINETRY
In Emmy Rossum's classic New York City apartment, the elongated kitchen space has a range and hood by Bertazzoni, the cabinets are by Scavolini, the antique runner is from Stark and the photograph is by Roger Mayne.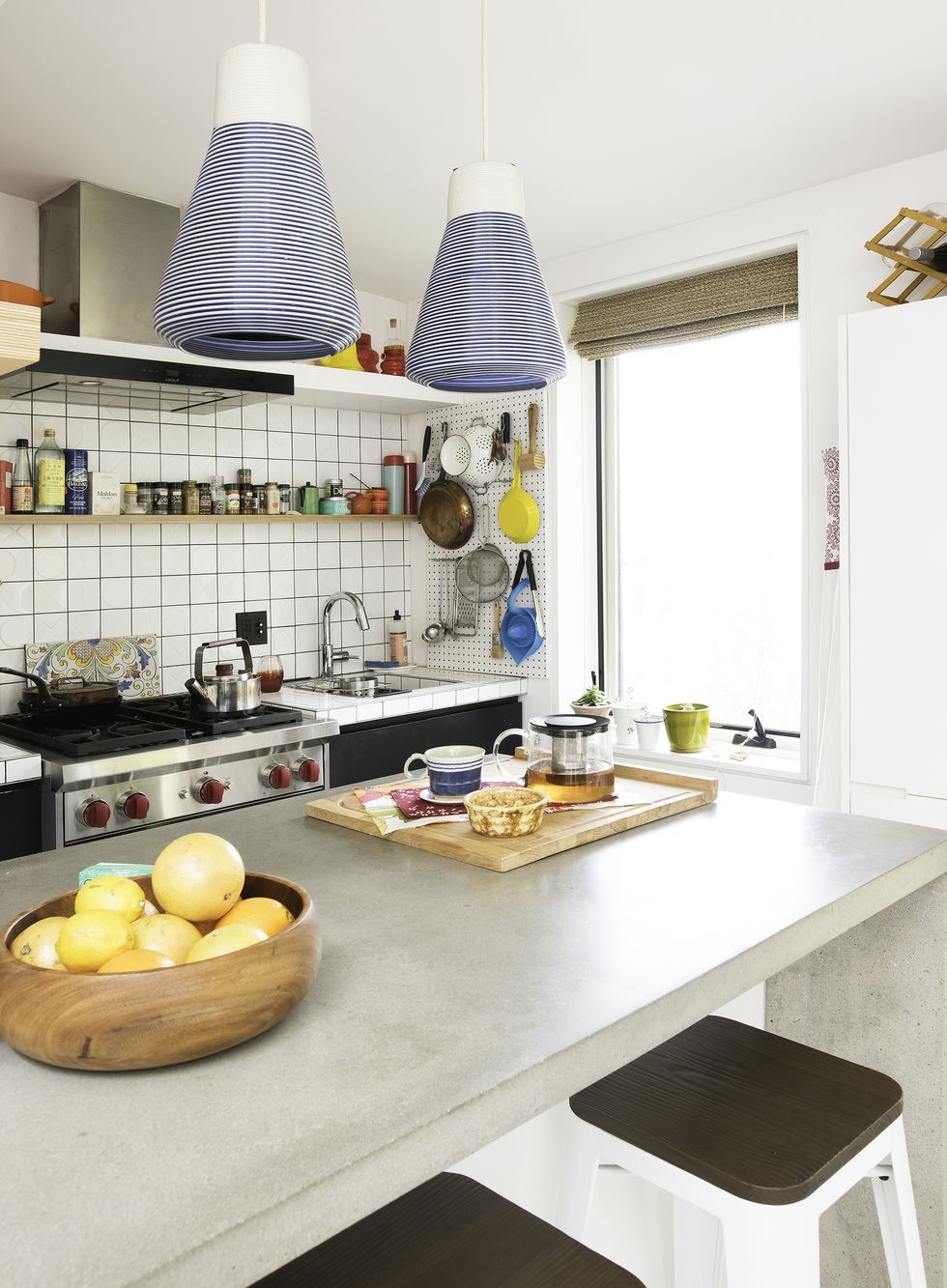 CONCRETE CHIC
"The kitchen is another example of applying real design ingenuity to small dimensions," Refinery29 founder Christine Barberich says of her Brooklyn Heights space. "My husband found the best appliances he could that were all smaller in scale, so nothing felt out of proportion. I love the XO relief tiles that create the white backsplash. They're just fun because you might not notice the pattern until you're up close. We had the concrete countertop made in Bay Ridge by this three-generation family of concrete designers. We loved the idea of having this major industrial moment right in the middle of the apartment and it really does serve as an entertaining area, workspace for cooking, or flower arranging. It's unexpected in its brutalist vibe against the white backdrop and softer, colored details."
MINIMALIST YET PLAYFUL
In a minimalist New York City apartment with pops of color, a narrow kitchen features cabinetry by Bulthaup, a countertop and sink by Corian, fittings by Vola, and an oven and cooktop by Gaggenau. The light fixture is by Bega, and the floor is terrazzo.
SMALL SPACE WITH STATEMENT ARTWORK
Designer Stephan Jones and San Francisco art dealer Francis Mill turned a former warehouse space into an art-filled apartment. The kitchen is no exception: the statement wall sculpture is by Manuel Neri. The cabinetry is by Henrybuilt, the countertops are PentalQuartz, the faucet is by Dornbracht, and the stools are by Overgaard & Dyrman.
A TABLE FOR TWO
A pair of 19th-century English chairs and a Kartell table fit perfectly into the corner of this tiny Brazilian kitchen in a São Paulo building.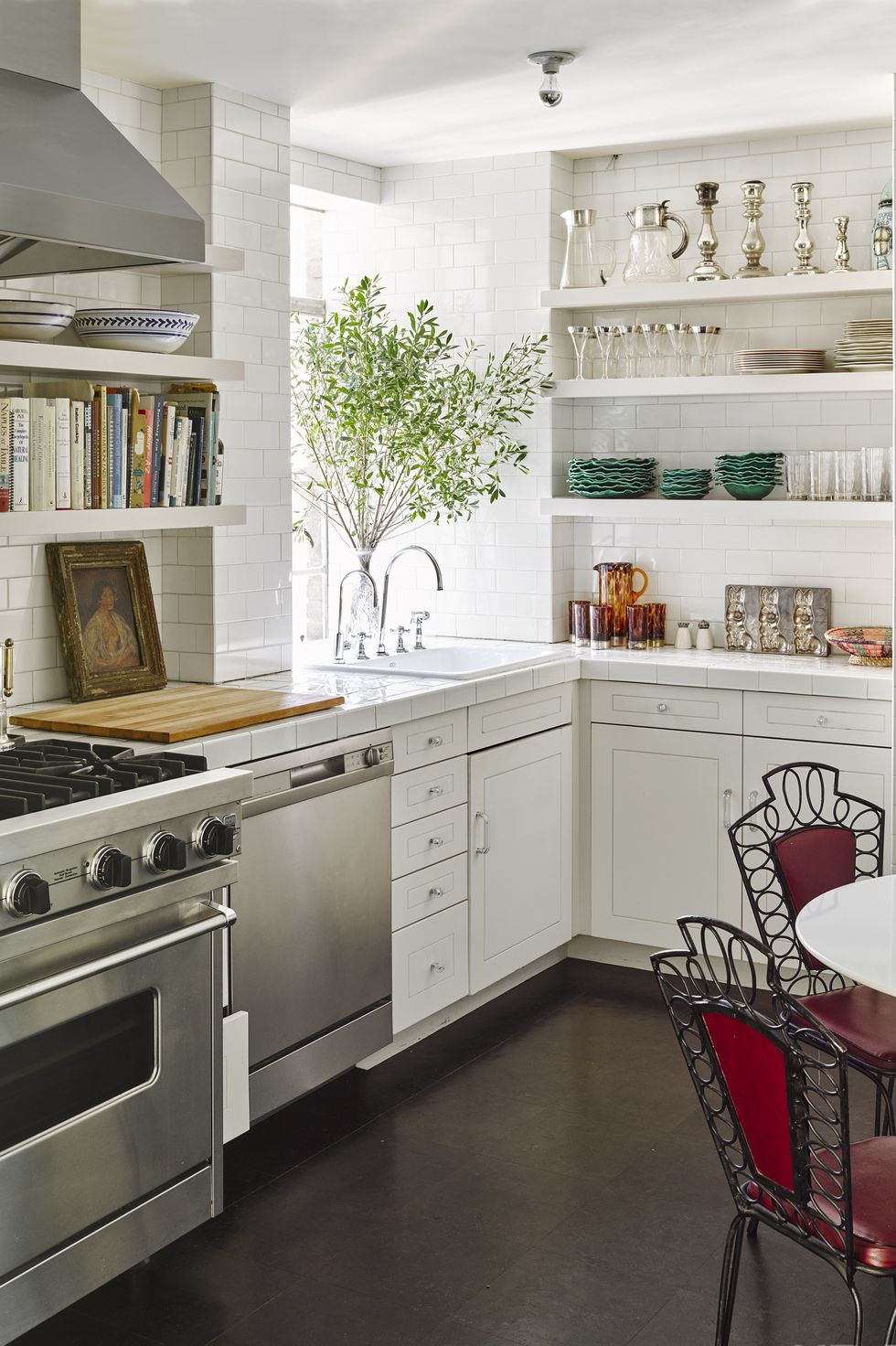 TRADITIONAL KITCHEN WITH EXTRA SHELVES
In Marisa Tomei's home, the small kitchen is marked by a Saarinen table paired with 1940s French garden chairs. The range is by Viking, the dishwasher is by Asko and the flooring is cork.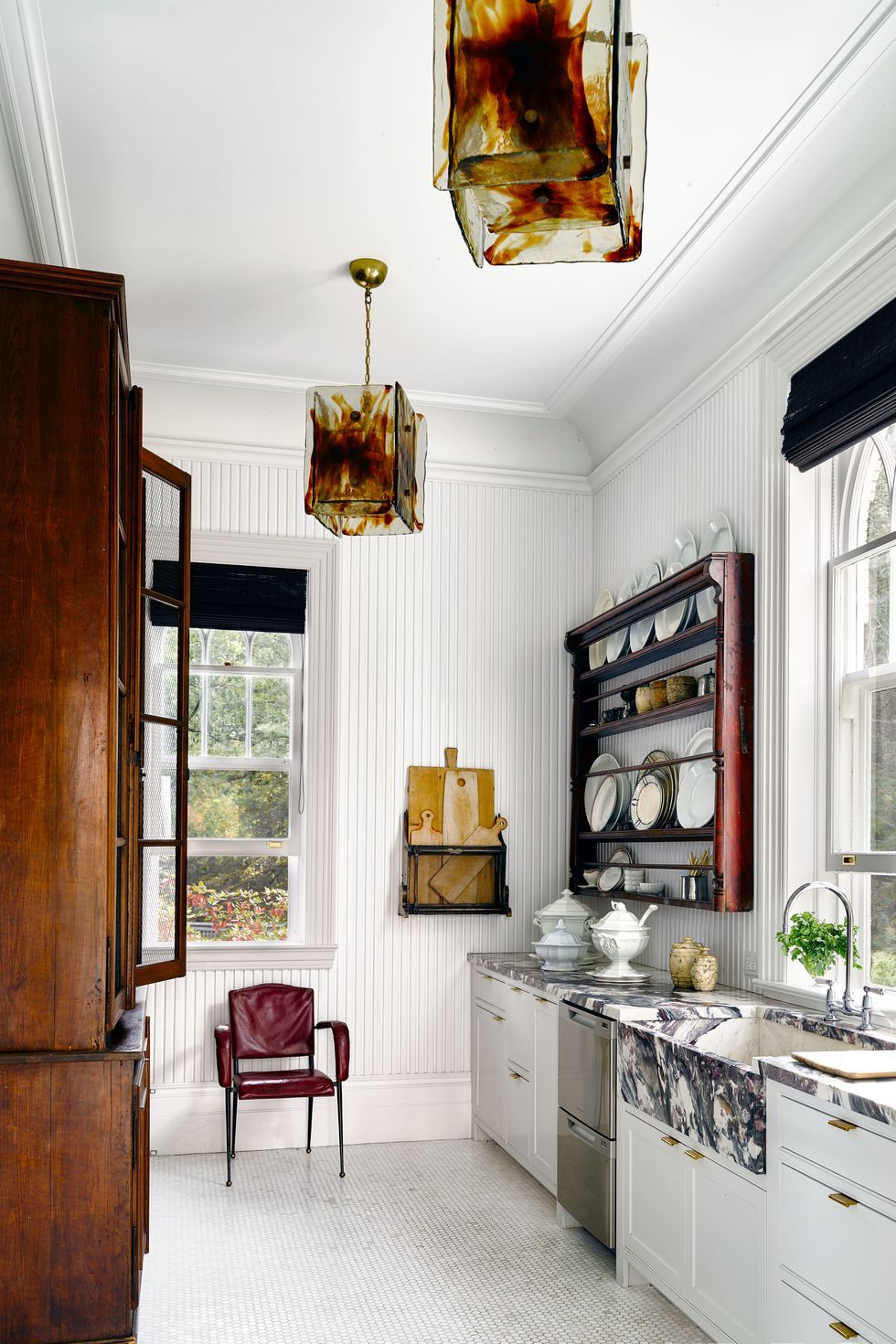 WHITE SCULPTURAL KITCHEN
An inviting, all-white kitchen in Michael Bruno's Tuxedo Park home is complete with a custom-made sink and counters and a Fisher & Paykel dishwasher.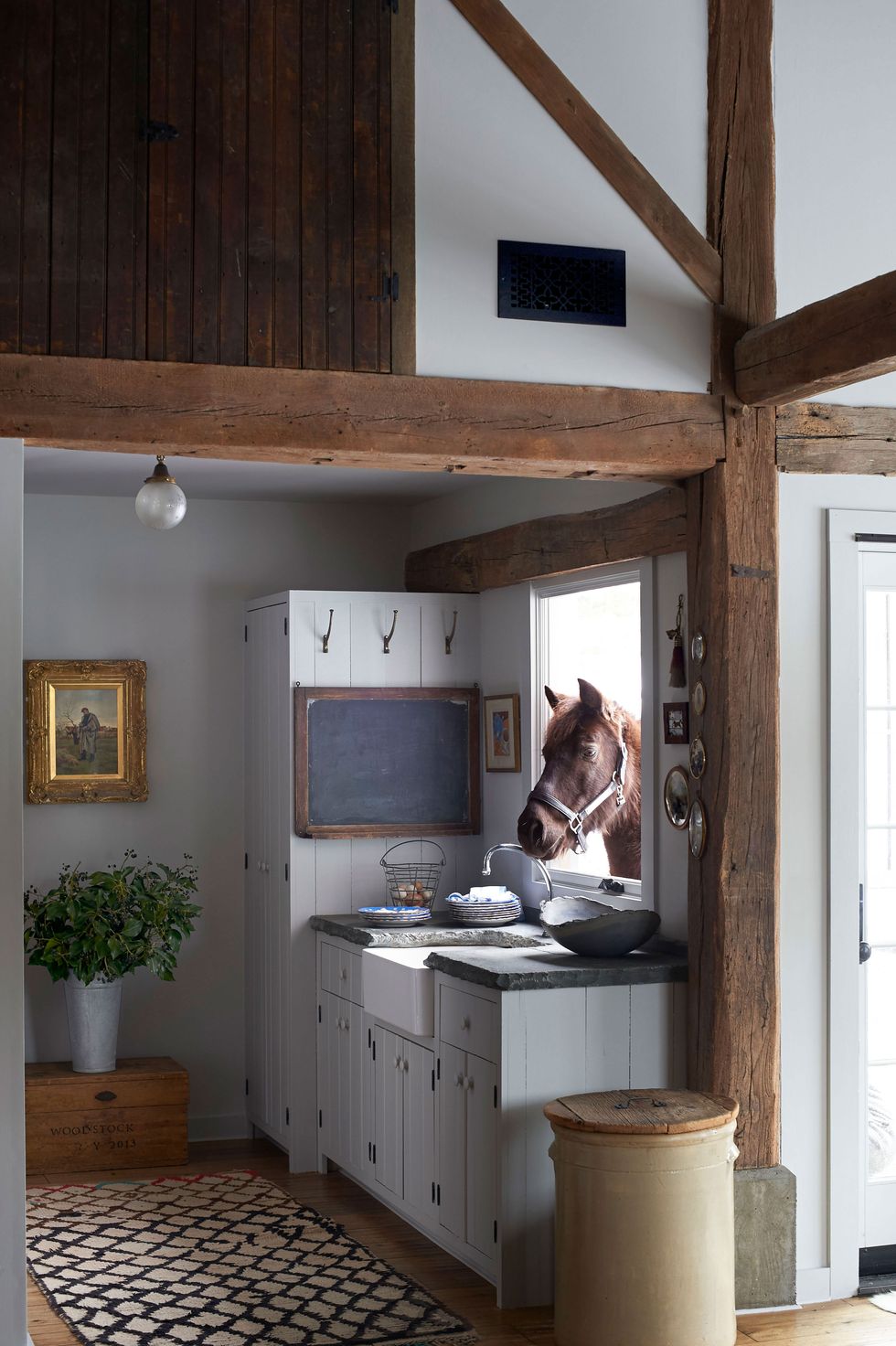 FARMHOUSE KITCHEN WITH RUSTIC STYLE
In a Woodstock, New York retreat, a pony peeks into the kitchen, which showcases custom-made beadboard cabinetry, a Rohl sink and a vintage Moroccan rug.
Subscribe to our newsletter
Promotions, product updates, and best offers. Directly to your inbox.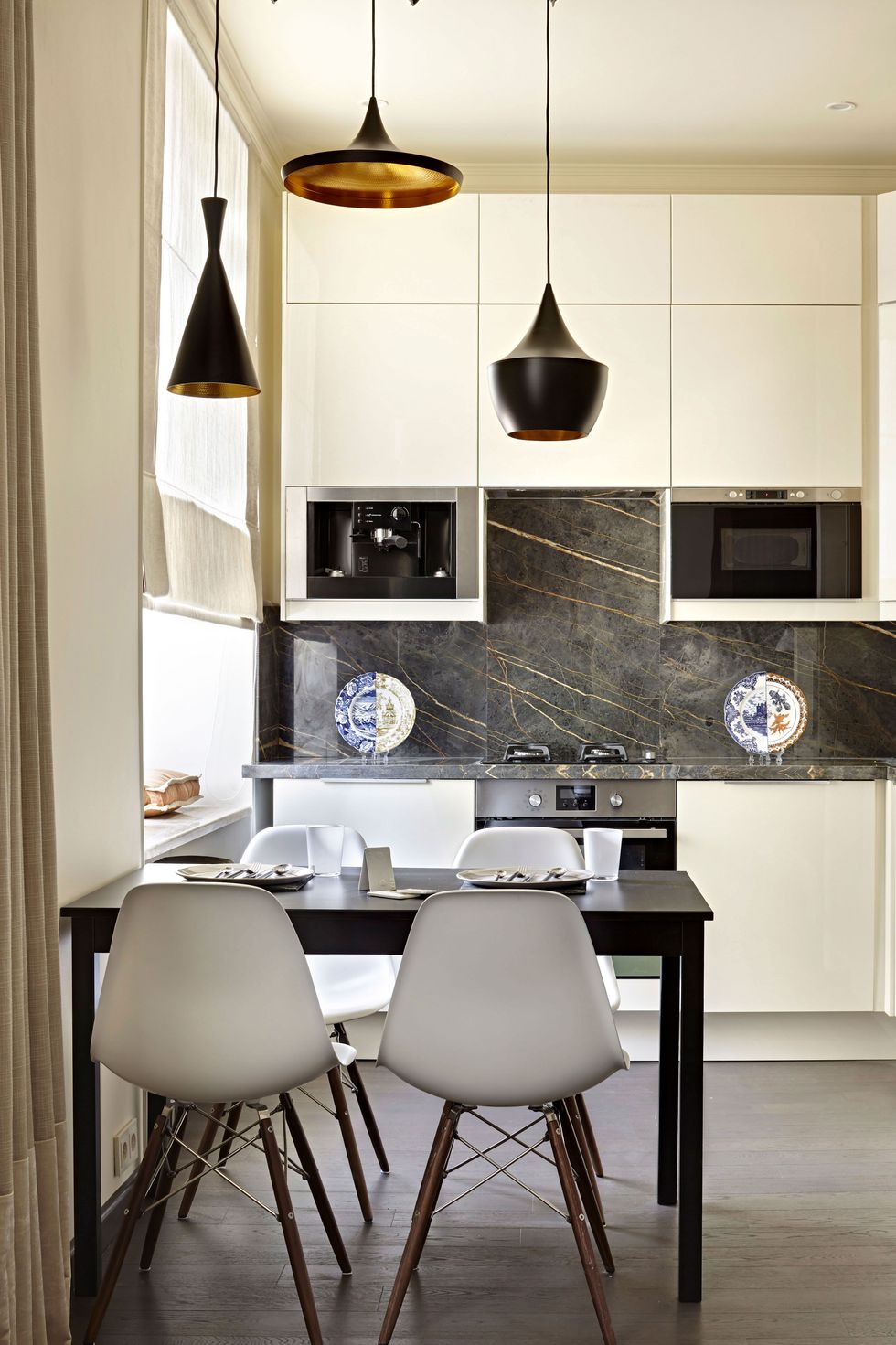 MODERN AND UNDERSTATED
In a Moscow apartment designed by Olga Kulikovskaia-Ashby, pendant lights by Tom Dixon hang above a black table in a quaint kitchen. The chairs are by Vitra and the plates on the counter are by Seletti.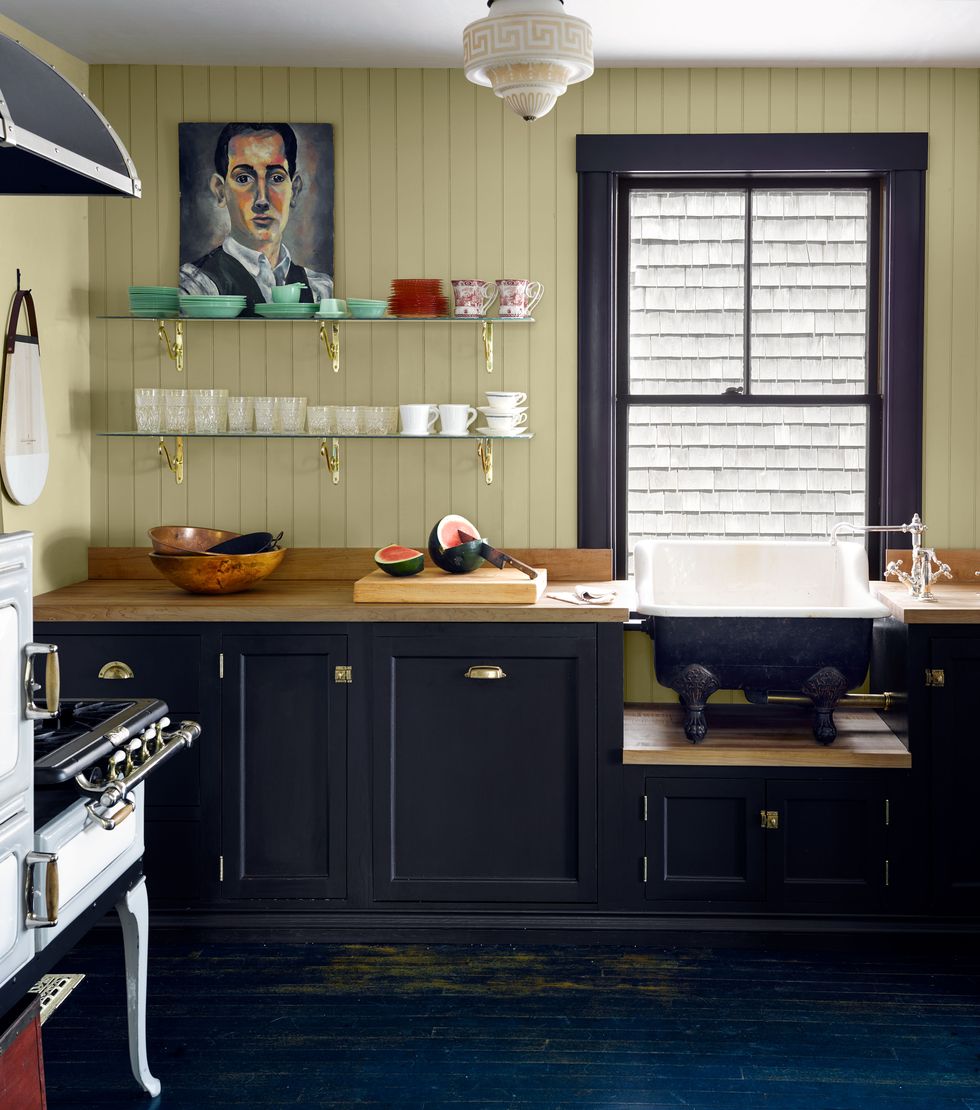 NEW ENGLAND COOKING SPACE
In this Cape Cod cottage, the small kitchen's custom-made cabinetry is painted in Tanner's Brown, and the walls are in Cream, both by Farrow & Ball. The countertops are butcher block, the sink fittings are by Waterworks and the Wedgewood stove is antique.
SLEEK STORAGE
In a New York apartment, Bertoia side chairs surround a Saarinen table in the kitchen; the Akari light sculpture is by Isamu Noguchi, the candlesticks are by Ted Muehling, the cabinetry is custom-made and the Tara sink fittings are by Dornbracht.
PERFECTLY MONOCHROMATIC
Magdalena Björnsdotter and Erik Björklund covered their century-old farmhouse in rural Sweden in bright white paint. The black-and-white kitchen includes a flea-market table, industrial-style chairs and a metal-and-driftwood pendant light by Olsson & Jensen.
STASH BOOKS UP ABOVE
Inside the home of Mark Badgley and James Mischka, bookshelves are placed up to the ceiling to make room for their many cookbooks.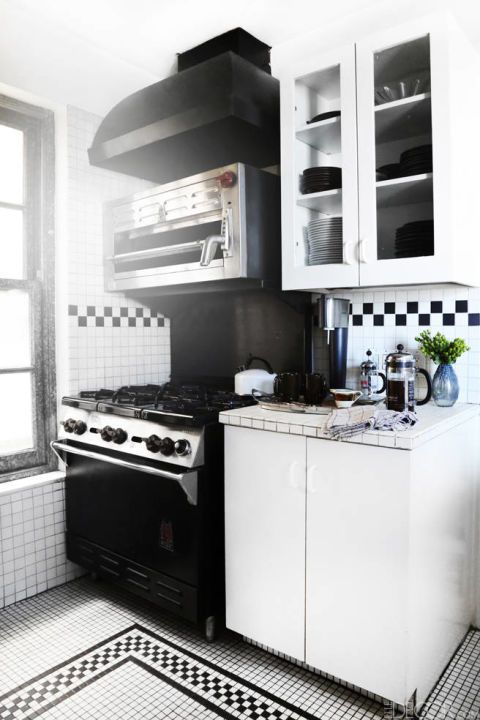 RETRO STYLE
Jeweler Alexis Bittar's kitchen in her Brooklyn Heights home gives off retro vibes, thanks to its checkerboard tile work. The various patterns used add depth to the space.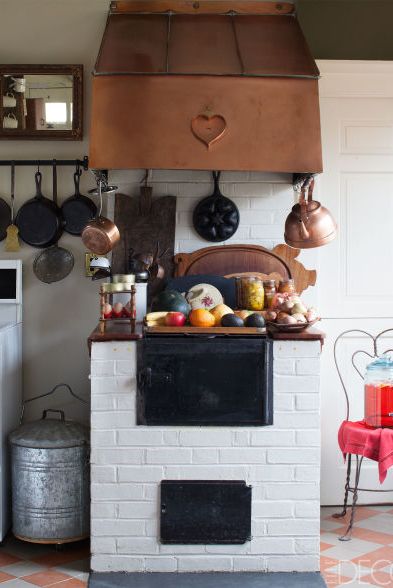 RUSTIC STORAGE
Model Anne Bannert made the mahogany top for this kitchen's 1950 wood-fired barbecue grill. The copper hood is from the same decade, and the steel chair was found at the local dump.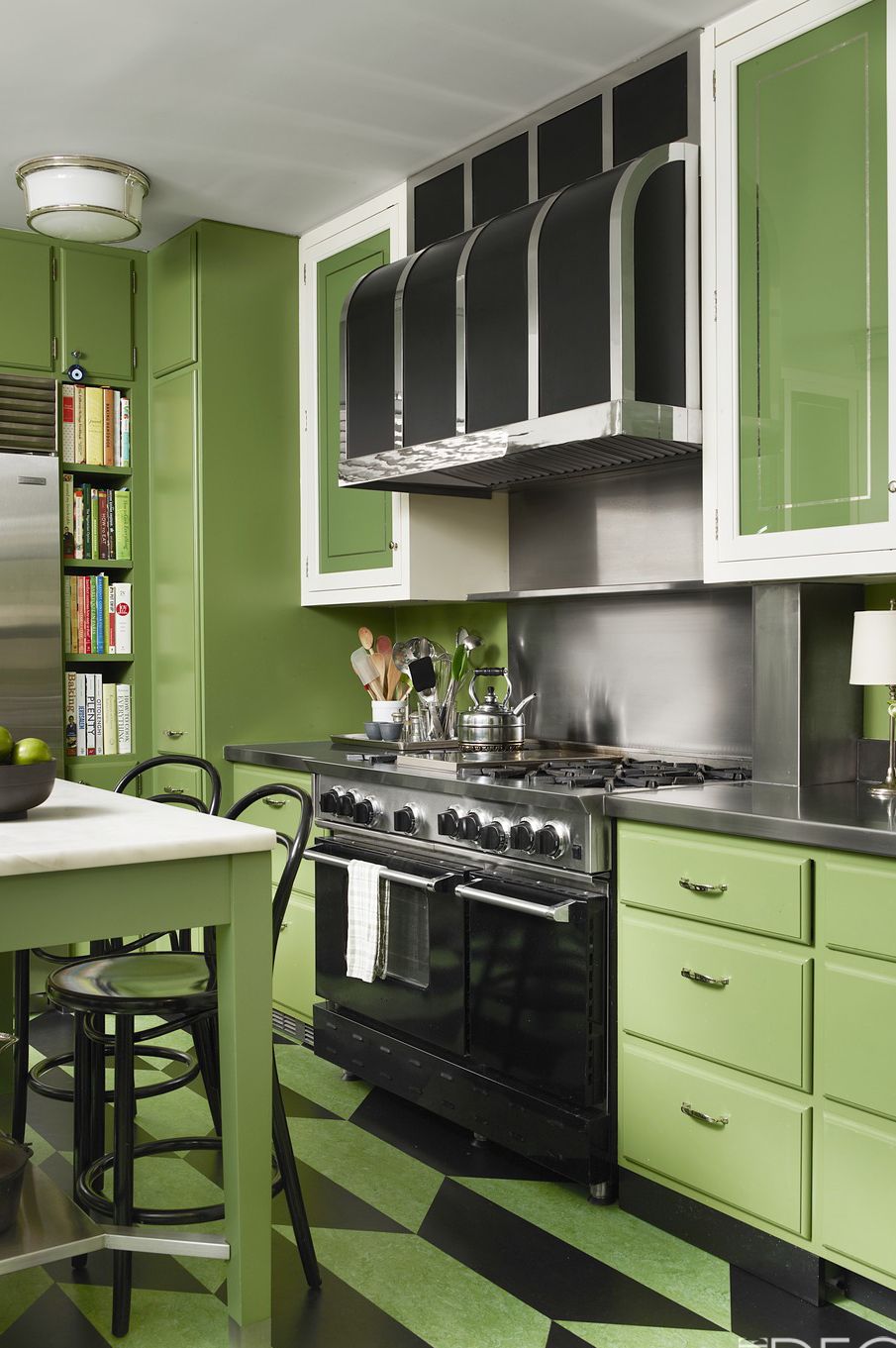 OVER-THE-TOP COLOR
This kitchen in a Manhattan apartment doesn't hold back in the color department, and it pays off. The cabinets, walls and table are painted in Benjamin Moore's Courtyard Green; the stove is by BlueStar, and the floor is laser-cut linoleum.